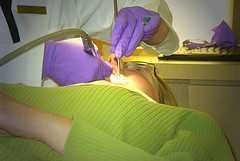 I have a friend who recently became a widow within the last several years. During the first year or so after her mate passed, we would have a 'girls night out' and joined adult education classes at the local high school, signing up for fun topics such as 'gourmet cooking.'  Other times we would sign up for evening craft classes, such as bow-making or calligraphy at the local craft store.
After a night of these fun events, we Baby Boomers did what any group of hard-partying gals would do ~ we'd go out to grab a bite to eat and engage in 'girl talk.'  Inevitably, we'd end up discussing the subject nearest and dearest to us ~ ourselves!
After several attempts and failures at online dating services, my friend decided to go on a mission of self-improvement.  I, being still married to the same fella for over 30 years, was umm, not so motivated.  As she ate a late-night dinner of salad, while washing it down with a glass of water with lemon, my friend spoke of changing her hairstyle by having a cut and highlights done ~ I listened intently while drinking my chocolate milkshake and enjoying my Pastrami Reuben with melted cheese.  My friend spoke of how she joined a weight watching group, and was now exercising at a local health club.  I responded that I exercise by taking a 5-minute walk across the street for errands during my lunch to the corner drugstore to pick up a candy bar.
My friend then dropped the bomb that as a coup de grace, she decided to invest in having porcelain veneers cosmetic dental work done to enhance her appearance.  I remarked I just usually like to floss.
After sufficient mourning time had passed, my friend re-entered the social scene and began to date again.
Porcelain veneers are a common cosmetic dentistry procedure used to improve the appearance of your teeth.
Porcelain veneers can improve the appearance of :
• Uneven teeth
• Chipped teeth
• Severely stained teeth.
A porcelain veneer is a thin shell of porcelain that fits over a damaged or discolored tooth. Porcelain veneers have many benefits over other teeth restoration techniques. Some common benefits of porcelain veneers are:
• Durable
• Color and translucent similar to a natural tooth
• Not susceptible to decay
• Resists staining
• Natural appearance
• Can effectively reshape teeth
Once veneers are permanently placed they will feel like a natural part of your teeth.
My friend is smiling once again and introduced me to her new "significant other" at a wedding we were at recently! Now those are results that give her something to smile about.