My In Box is overflowing!  Recent emails that I've received must be a sign of the times.
I have received so many emails from the various work-at-home mom advertising sites that I'm signed up for.  All of them have been offering best buy specials gimmicks.
"Renew early – sign up for "lifetime placement" and lock in for a one-time rate!
Most of these advertising sites are from mom-owned WAHM businesses.
Yes, I do like to support other mom-owned businesses.  However, I caution you in falling for this common sales pitch tactic.
What I believe is happening, is that these people are in a pinch, and are trying to earn some extra fast cash.
Before you sign up for a renewal, ask yourself some questions:
**Will your own site be around next year or for a lifetime?  Is it working for you?  Do you think you'll want to continue with your direct sales or affiliate company/ecommerce site/product?  Is your product flying off the shelf so fast that you need a 'lifetime' rate?
**Will the site you're going to advertise on be around next year, or for a lifetime?  What is their refund policy should they fold, or should you decide to discontinue your affiliation/shop/product?  If they're so successful, why are they trying to raise cash now?  That's what they're really trying to do.  If they include comments such as "our site is growing by leaps and bounds" ~ they it's 'Buyer Beware."

**Have you checked your statistics to see if this particular advertiser is generating enough traffic for you to renew, especially for a lifetime?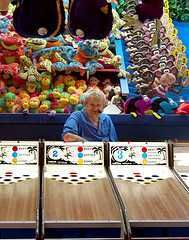 As I keep stressing, read between the lines.  Don't fall for any sales pitch and part with your hard-earned money that isn't going to be profitable for you.  It may sound enticing, but I still think it's a sign of a tough economy.