Wordless Wednesday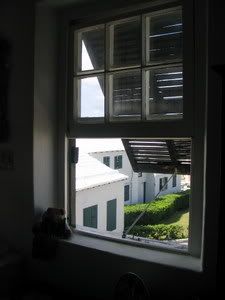 Copyright @ Moomettes Magnificents
I always look forward to Wordless Wednesdays.  It makes "hump day" so much easier, especially if you work in a cubicle, like I do.
Although the purpose of Wordless Wednesday is supposed to be, well, just that ~ Wordless ~ I'm taking this opportunity to try to explain it to new readers and new bloggers.  I've joined some terrific groups lately, and many new members, moms and non-moms, are just learning about blogging.
On WW, one posts a favorite picture/photo ~ and the rest is up to your imagination!  I find myself now becoming more interested in photography, and looking for the perfect photo op to post on Wordless Wednesdays!
That's why I chose this particular photo…wonder what's outside the window?  Wonder where I was when I took it?
This photo was taken at a lovely antique shop in St. Georges, Bermuda.  I never can pass up shopping for antiques or vintage collectibles !
The island is one of my all time, most favorite places and I can always look forward to going  back!  We had a Bermuda Honeymoon, and the people are so friendly !
© Moomettes Magnificents