If you've ever been to New England, you may be familiar with the old Yankee saying "If you don't like the weather, wait a second, it'll change." While we are fortunate to enjoy the variety of the four seasons, it is winter that challenges our creativity in keeping snug and cozy.
I recently had the opportunity to review a version of what might possibility be the hottest item this year to help conserve on your heating bills this winter!
The Slanket is a hybrid cross between a blanket and a sleeved robe.
100%

Polyester

Microfibers
I often write my blog posts late in the evening after everyone has gone to sleep.  We've been trying to conserve on our gas bills, and the thermostat is normally set lower at night. Our home was built in the 1940s and my computer desk is near a window.  Although we do have thermopane windows it can get drafty.  I wrapped up in the Slanket one night and tried to type.  Since I'm petite, and the Slanket is bulky, I think it's more suitable for using when trying to read or watch television.  I tried walking in it, but because of it's length, would have been better off  wearing the Kids  size to maneuver around in.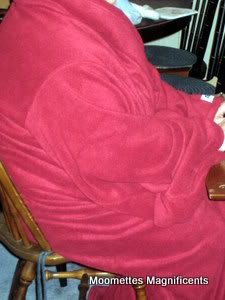 There's an interesting history as to how the Slanket was developed.  Check out their website, and put the Slanket on your list for gift-giving to family and friends this year!  It's a great going-away gift for any new Grads who will be college-bound this coming fall!
For More Information Visit: Slanket
Moomette's Magnificents Reviews is hosting a Giveaway!
The Slanket was kind enough to offer to send one new Slanket to  one lucky reader.   For a chance to win:
To Enter: Visit The Slanket and comment on this post, letting me know what your favorite color is and how you would use The Slanket if you won it.
Now for extra entries (each task will get you 1 extra entry):
~Subscribe to my blog via email through my Feedburner link (on the top of my left column)
~Add my banner button to your sidebar or add me to your blog roll.
~Blog about the contest on your blog, linking back to my blog and this post.
~Go Favorite or Fan me on Technorati (the link is on my left column if you scroll down) or both.
~ Follow Me on Twitter
~Tweet about this contest. (Comment separately with the URL of your Tweet)
Make sure you comment separately for each task after the required entry task so you will get credit for each one ~ and leave your e-mail where you can be contacted.
Entires without a valid email address, or those that don't follow the Contest Rules will be disqualified. Winner to be chosen via Random.org
This contest will run until February 14, 2009 at approximately 11:00 pm.
Random Integer Generator
Here are your random numbers:
32
Timestamp: 2009-02-15 14:27:11 UTC