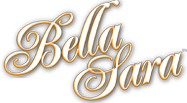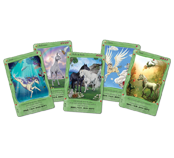 It's hard to believe, but even though I have one daughter who's 21, I still get slipped little notes to "Santa" about what's on her Christmas List. When she was little, I always used to save her lists and put them in her baby book. Its fun to drag out the baby books and reminisce every now and then.
If you haven't started your holiday shopping yet and are looking for some neat stocking stuffers, Bella Sara is a trading card game that's complimented by the magical online land of North of North ~ home to the beautiful horses pictured on Bella Sara trading cards. Bell Sara has captured the hearts of young girls across the country, offering positive, inspirational messages.
The Bella Sara family of horses is expanding as they welcome Baby Bella foals, complete with new trading cards featuring gall of the brand-new babies. On November 6th, the website is kicking off a 10-day celebration where kids can qualify for daily prizes, print of babies' birth certificates, read stories, and get access to special codes and more.
Each card is approximately the size of a playing card, and features an inspiration quote and comes with a checklist.
Whether you're looking for something unique for your own daughters, nieces or granddaughters, these cute cards are worth checking out!
Baby Bella Card Packs will retail for $2.99 each, and are available at major retail outlets, booksellers and toy, hobby and equestrian shops in North America.
For more information, visit http://www.bellasara.com