Baby Go Green features Natural Parenting Products,
Made Easy and Affordable!
The new luv of my life arrived on August 5, 2008.  I now have a new Grandson!
This is going to be quite an experience for me, after having 2 daughters, and one granddaughter.  Not only do I not really know how to shop for anything remotely connected to entertaining toddler boys, but I'm not great at picking out clothes for them either!
To my rescue comes Baby Go Green ~ Natural Parenting Made Easy & Affordable!
I did a Product Review for Lori, a WAHM of 3 girls earlier this summer highlighting the wonderful Fuzzy Farm Puzzle.
Now that Slugger's on deck, I'd like to take this opportunity to tell you about the 100% Organic Baby Clothes that Baby Go Green has to offer.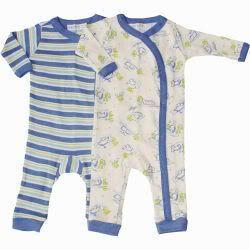 The UTN Union Suit HIPPO is a  cozy suit that is  great for outings or just around the house.  Made with the finest 100% Organic Egyptian Cotton, Slugger will be comfortable and cozy in this super-soft outfit that is suitable for wearing through the rest of the Summer through Fall, here in New England.  It has plenty of thin snaps for comfort and easy changing.  And do I need to mention how breathable natural cotton is?
Available in Sizes Newborn ~ 3 Months & Sizes 6 ~ 9 Months
USD $24.00
Check out Baby Go Green for Cloth Diapers, Diaper Covers, Baby Care items & More.
Have a Baby Shower coming up?  How about starting your Holiday Shopping early  ~ Lori is kind enough to offer readers of Moomettesgram's Musings  Free Shipping! Use Code FREESHIP50