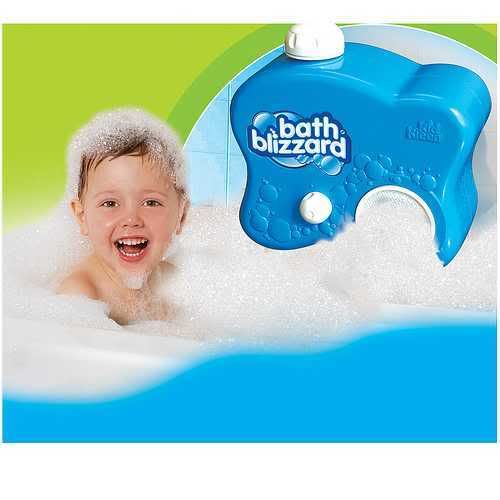 Anyone with a 3-year old knows how much they luv to take a "tubby" bath. I remember those days well. Either they fight you to no end, or they enjoy it so much that they don't want to get out!
As a grandmom, I babysit quite often for the little darlings, and get to relive the experience all over again with 'Lil Moomette!
I'm delighted to have the opportunity to review Bath Blizzard, by Spin Master.
The Bath Blizzard, a bubble machine,
…creates fun by releasing a waterfall of bubbly foam fun for the tub that your children can actually clean with.

Bath Blizzard can be securely hung on the faucet using the adjustable strap for a clutter-free bath.
This fun, compact bath bubble-maker hangs securely onthe side of the tub via suction cups, with just the turn of a knob, a waterfal of soapy bubles goes spilling into the tub. It's sure to make bath time a blast for evn the most water-averse little tyke! 
Now where with this ingenious idea when my children were little?
The Bath Blizzard consists of a tears-free formula that is
Pediatrician and Opthalmologist Approved
Hypo-Allergenic for Sensitive Skin
Additionally, Bath Blizzard comes complete with a Battery-operated Foaming Machine; with strap for stability on the side of tub, 2.54 fl.Oz. Bubble Bath Concentrate (which is enough for 10 baths) and is Refillable.
Ages 3+
Available at Target,Toys R Us and Walmart.
If you're looking for a unique Birthday Gift or present for Holiday gift-giving this season and for more information,  visit Kid Kleen at http://www.kidkleen.com/