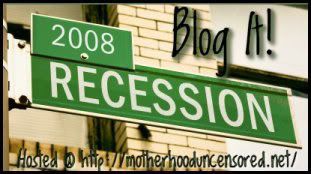 Let's Help the Blogosphere fight the Recession!  Motherhood Uncensored (and I do mean uncensored, so consider yourself forewarned) is a gal after my own heart.  We Baby Boomers always did luv to participate in "A Cause."
I was over at MomDot and saw their blog post about how Kristen thinks we should all surf a few new blogs, leave comments, and drop linky luv!  I agree!  You get to meet new friends, develop new ideas, and keep those  brain cells active (especially if you're like me!)  Here's  a direct quote from Kristen's blog to get you to join the bandwagon:
The premise is simple. If you read blogs, then for the month of August, make the "pledge" to click through from your feed reader. No obligation to leave a hilarious comment or send a long stalkerish email (although both, within reason, are always lovely). Just click through to the blog (not on ads unless you are so led) and if you're feeling generous, click around to their older posts.

Just those extra page views can make a big difference for bloggers who could really use the help…

If you feel like hopping on the bandwagon (c'mon, it's fun and I'm a really great driver), then all you need to do is grab a button — see below, slap it on your blog, and [beg, plead] ask your readers to click through on their feed readers or blogrolls and do the same within a post.

Send me the link to your post and I'll link you up here and enter you to win some *fantastic prizes.
I actually saw MomDot's Twitter post, which got me there in the first place!
So start with me ~ leave me a comment, and let me know what you think!  If you're new to my blog, check out my archives and read some of my older posts.  You'll be in for a Ride if you do! Update:  Let's not limit it to August ~ Let's keep this on an ongoing basis!