Blogging Conferences
Noun
1. The cognitive condition of someone who understands; "he has virtually no understanding of social cause and effect".
Verb
1. Get the meaning of something; "Do you comprehend the meaning of this letter?".
Intelligence Wisdom
Noun: intelligence, capacity, comprehension, understanding; cuteness, sabe , savvy ; intellect; nous, parts, sagacity, mother wit, wit, esprit, gumption, quick parts, grasp of intellect; acuteness; Adjective: acumen, subtlety, penetration, perspicacy, perspicacity; discernment, due sense of, good judgment; discrimination; cunning; refinement; (taste).
Knowledge
Conceive; apprehend, comprehend; take, realize, understand, savvy, appreciate; fathom, make out; recognize, discern, perceive, see, get a sight-of, experience.
Savvy Blogging – #Fail
Any blogger who's savvy by now may have heard the latest controversy going around the blogosphere concerning the "Savvy Blogging Summit" that will be held in Colorado, in July.
If you're on Twitter, the hashtag #savvyblogging is used to find all tweets pertaining to blogging tips, tricks, advice, and general chit chat.
On occasion, I have been known to utilize the hashtag to dispense my own words of wisdom and what I think are my best work-at-home tips, blogging tips and social media advice that I've developed and learned from others (for FREE, through fabulous blogs, forums, emails, etc.) over the last three+ years I've been blogging.
I don't purport to know the young women who will be hosting The Summit, but I do follow these ladies as well as several of their loyal followers on Twitter, and I believe they follow me back.
I first learned of the controversy through Trisha over at Mom Dot. Her original post "Charging for a CHANCE to go to a conference? Huh? has garnered substantial comments, most of which express outrage at the circumstances.  The issue that has developed is controversy concerning a $5.00 non-refundable "application fee" to be "considered" to be among the chosen few to attend this Summit.  I continue to call it a summit, while the hostesses are calling it a "school." Schools offer degrees.  With a Graduation Exercise. Pomp and Circumstance is usually played as the graduates march in to accept their diplomas.
While I believe that on it's merits, most conferences or summits that bring together bloggers to share and exchange ideas is a "good thing" as Martha Stewart would say – first charging the sum of $5.00 before you can even access the application is, in my mind, fleecing taking advantage of those who probably aren't earning a penny yet if they try to monetize their blog.
The goal of my blog is to try to point moms who want to be WAHMs or bloggers in the right direction – and this, clearly is NOT the right direction. It's a new tactic, on uncharted ground. It is not a common practice of blogging conferences or events, by any means.
Furthermore, any event planner worth their salt would have all their ducks in a row before having a website go public.  The site (as of the date of this post) doesn't even have a roster of who the "experts in their fields" are who will be speaking.  Really.  Not.Too.Savvy.
Moreover, as for the claim that they are seeking sponsorships for ALL the attendees – For Real? Is their target market newbie bloggers? Mid-level bloggers? It's difficult enough for established bloggers to get ONE partial or full sponsorship to events such as BlogHer or Type-A Mom Conference. I really have my reservations that they'll be able to get company(s) to pay for sponsorships for ALL their attendees. Don't buy into this hype!
I've already taken some flack for my position on Twitter, but I'm standing by it. Let the chips fall where they may. I have my standards.
Lori from A Cowboy's Wife further posits her thoughts on the matter on her post – "$5 for Consideration, Paying for others if Denied" .  I'm sure other bloggers, mommy or not, will be speaking up regarding the non-savvyness of what I have dubbed #Ticketmastergate.
Am I serious about my blog? You Betcha. I spend approximately 6 hours per night on it, after working a full-time job during the day, along with other family responsibilities.
And for the record, I have never attended a blogging event … yet.
Your thoughts on this matter?
Don't forget to enter my Giveaway for a Ticket to BlogHer10 (The Conference) in New York City in August! ( A $300 Value) The Conference is Sold Out!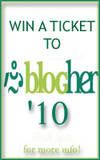 Definition Source: Webster's Online Dictionary