'Lil Moomette, who's 21 months old, is now a proud Big Sister! I have a new grandson that was born August 5th!
Since I have 2 grown daughters of my own, a boy in the family is going to be a different experience!
My daughter always dresses Moomette in coordinating outfits and matching purses. Even at this tender age, Moomette likes to have her hair done up in "pretties," as she calls them.  However, 'Lil Moomette wasn't blessed with the thick mane of hair that her mom had as a child, and still has ~ but rather, takes after her Dad. Any attempt to put a barrette, or other "pretty" in her hair ~ and we risk the chance of losing what little hair there is!
I am therefore delighted to have the opportunity to review Bugalug Barrettes and Headbands from Bugalug Baby, a Canadian company.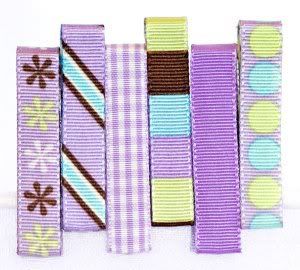 Bugalug offers 'stay-put accessories for the Urban Girl.'  After receiving a set of these delightfully well-made barrettes, we can certainly attest that they do, in fact, stay in place on even the slightest whisps of baby fine hair! My daughter was amazed that these were the only barrettes and headbands that she has used that have stayed in place on Moomette!
Bugalug's website states:
Bugalug barrettes have recently introduced their newest, most innovative and BEST clip yet! We have gone 100% magnet free and we have added a silicon gel GRIP to the inside of EVERY barrette. This grippy strip is the 1st of it's kind. Many other barrettes are finding ways to imitate our grippy strip, but they just can't compete with this unique design. Like always, our clips are great for any hair type and any age, from baby to adult, but they are especially great for fine hair. When nothing else will stay, try a Bugalug – you won't be disappointed. With our simple, trendy, no frills designs, your little one will be able to wear them with tons of different outfits for years to come! And remember, we are glueless too – our clips can withstand the wash and dryer and never look bumpy or clumpy from glue.
Each set ~ USD $4.00

Grosgrain Headbands are fully adjustable and will fit any head from infant to adult. (26″)
Each ~ USD $8.00
There is also a Clip of the Month Club Membership available. Become a VIP member of Bugalug! By joining their clip of the month club, you will be the first to get new styles, popular retired styles, and exclusive styles for members only! One fabulous new clip will arrive in your mailbox every month for 12 months.
Bugalug Baby would like to offer readers of Moomettesgram's Musings a discount of 10% expiring August 31, 2008.  Use code:  MOOM10