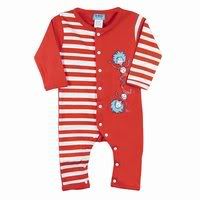 It's so much fun to be a grandmom! Like my own mom, my kids were born while I was in my early 30's, so I always figured it would quite awhile before I became a grandmother. When my oldest daughter and her husband presented me with my first grandchild, 'Lil Moomete, two years ago, I was delighted.
Imagine my delight when my new grandson Slugger was born this past August! I couldn't contain myself!
Having a grandson is a little different than having a granddaughter. Being of the female persuasion, I'm used to shopping for frilly things ~for my own girls as well as my nieces. It's taking a little getting used-to picking out clothing and accessories for the (so-far) male heir to the family dynasty that would be acceptable to his fashionista mama.
I'm delighted to be writing about Bumkins Finer Baby Products.
Bumkins Finer Baby Products was founded by Jakki Liberman in 1989. Initially conceived as a means to provide her own young family with an alternative to disposable diapers, Jakki began the company with a single prototype, the All in One cloth diaper. This inventive design, which rivaled disposables in convenience, became the foundation of Bumkins product offerings.

In 2005 Bumkins became a Dr. Seuss licensee and entered into the world of infant and toddler apparel.
I received the most adorable Dr. Seuss Coverall Seuss Suit to review from Bumkins Finer Baby Products. Dr. Seuss was one of Slugger's mom's favorite characters when growing up.
The Coverall is adorned with the whimsical characters Thing One and Thing Two as well as the classic Cat-In-The-Hat stripe print. Seuss logo snaps for easy dressing complete the outfit, which also features adorable back pocket details!
The Dr. Seuss line also features coordinating accessories! Complimenting the outfit I received was a Dr. Seuss Waterproof SuperBib: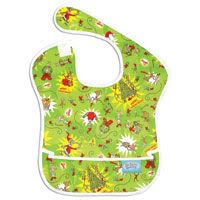 * Made of Bumkins' proprietary waterproof fabric
* Stain and odor resistant
* Adjustable Velcro closure
* Features catch-all pocket
* Machine washable, hang dry
* Measures 10″ across, 9″ from neck down
* Sized to fit 3 months – 2+ years
* PVC, BPA, Phthalate & Vinyl Free
* Made in the USA, with American made fabrics
If you'll be shopping for a little one this Holiday Season, or looking for a superb children's line for Baby Showers, Newborns, Birthdays or your own children, visit
Bumkins Finer Baby Products at Bumpkins Finer Baby Products for more information.