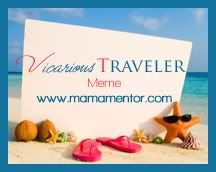 Welcome to the new Vicarious Traveler Meme! Share your favorite travel destinations with all of us to see! Whether you're a seasoned world traveler, or simply an arm-chair traveler, give us your recommendations!
Pull out that photo album and post your own favorites! (Family-Friendly).
Each Thursday, create a blog post about your recent trip or where you'd like to visit and then come back here to add it to the Mr. Linky for everyone to visit!
Since I never got to go away on Spring Break or a Road Trip when I was younger, I've started the Vicarious Traveler, and hope you'll join me in participating each week!
Don't forget to grab the Vicarious Traveler meme banner!

Last week, I wrote that I was feeling sorry for myself as my youngest daughter was away on a cruise to the Caribbean for Spring Break. She'll be graduating college in May, and was taking that annual pilgrimage that so many young people do ~ the Mother of All Road Trips.
Here are the dispatches from the Little Mermaid sent via Text Messages shared by DD22 to dear old mom left in Connecticut who was freezing her buns off:
Dispatches from the Texting Tropical Mermaid
San Juan ~ Sunday
Room's a good size and dinner was great … prime rib … haha I tried sending a pic txt but it won't work
Hey … We're in the middle of the ocean like 90 degrees sun's amazing
Aruba ~ Monday
Hey we're in Aruba … Amazing haha It's been abnormally warm here like 90ish again Love it
Hey It's so hot here … Got u a cute magnet … the beach was awesome How's CT haha
Aruba is gorgeous … I got coral from the ocean haha sand crabs and lizard things everywhere
Curacao ~ Wednesday

Hey Curacao reminds me of NJ LOL It's got the plant towers and power plant thingys everywhere
We're goin on a tour of Curaco to the beaches Sooo hot here whoa Got a disposable cam …Saw purses but not ur brand
This is a topless beach Boobies everywhere hahaha
The tropical fish swim with you at the beach
You are taking a vacation thru text
Gorgeous skies, took pics
At Sea ~ Thursday

9 foot seas and 10 mph winds Crazzzy ride today but it's nice and warm
St. Maarten ~ Friday
St. Thomas ~ Saturday

We're at a full nudy beach French people are very exposed
They don't have your brand bags They have Chanel Gucci Guess Prada DG and Coach and some bracelets
I'll look for a nice Gucci or Prada They're small like you want
San Juan ~ Sunday

I feel like I'm still on the boat I'm rocking like crazy even tho I'm on land It's a weird feeling
I'm on the plane It's a beast Lots of room tho So see you guys tonite
I was lucky to get a phone call too from some restaurant she was in, steel drums & all, just for effect!
Stop by next Thursday for the next adventure!
See what my friend Jennifer has to say about texting with your kids!
Text Messaging With Your Teens