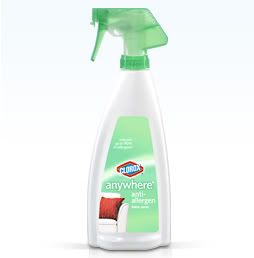 Now that we're officially enjoying a gorgeous fall in Connecticut, one must keep in mind that we're coming into the cold and flu season.
The crisp New England mornings, frost-on-the-pumpkin and sounds of the heating furnace reminds us that the windows are officially shuttered for the season. One of the things I like best about fall is that first smell of wood-burning stoves waifing through the air.
One of our family members is a fat, lazy, spoiled 11-year old house cat. Occasionally he tries to escape (why, I don't know ~ he has it so good here.) He became a member of the household when my daughter, now 25, got straight-A's in 8th grade. We previously had a purebred Black Lab that lived to be 12, and then we were fur-free for awhile. It soon became evident that darling daughter….might be allergic to cats.
I'm pleased to have the opportunity to review Clorox® Anywhere® Anti-Allergen Fabric Spray.
Clorox® Anywhere® Anti-Allergen Fabric Spray helps to reduce common indoor allergens such as cat dander, dog dander and dust mite matter up to 90 percent. This is important to our family since I now have two grandchildren whom I'm fortunate to see almost on a daily basis! Lil Moomette just turned 2, and Slugger, my new grandson, is 2 months old.
When darling daughter was younger she was the typical teenager ~ and we all know how most teenagers are always on the go, and we constantly have to remind them to pick up their rooms. My, how times change. After living away at college, she actually became a changed person! Not to mention that my Charming Son-In-Law has some wonderful qualities in the housekeeping department!
If the pacifer gets dropped on the carpet ~ it's immediately boiled for 5 minutes!
Now I can use Clorox® Anywhere® Anti-Allergen Fabric Spray for any soft fabric surfaces around the home where indoor allergens can thrive: cushions; upholstered fabrics; curtains; carpets; bedding; stuffed animals and pet bedding. When used as directed, it's safe to use on virtually all fabric surfaces, and gentle enough to use around the kids and pets ~ it's dye and fragrance free. When sprayed there were no harsh fumes.
Clorox® Anywhere® Anti-Allergen Fabric Spray has a fine mist trigger that won't leave behind any harmful residue on fabrics, which is great since 'Lil Moomette climbs all over, and the kitty likes to get comfy in the winter.
Clorox® Anywhere® Anti-Allergen Fabric Spray retails for approximately $2.99 and is available in home care iaisles of major retailers, or online at www.clorox.com. For further information, you can also call 1-800-277-1860.