Do you ever feel that your life is out of control? As a wife, mom and grandmom, I know I do. Trying to coordinate family events and personal schedules ~ not to mention financial due dates of bills, can get overwhelming.
At one time I thought I had this issue all wrapped up and in the bag. I had an online calendar software on my PC where I could enter the information; color-code everything and hit the "Print" button and voila ~ I had a calendar to place on the fridge.
Murphy's Law went into effect and took care of my then-perfect little system. When I got a new computer, the software wasn't compatible, and the company went out of business. I haven't been able to find a similar replacement for the calendar system since that time.
Families today are busy–we have so much to keep track of including appointments, play dates, birthday parties, sports and other family activities, not to mention the challenges of coordinating home and work schedules. It can quickly get hectic without a central place to organize, coordinate and keep track of so many important household details. In fact, in a recent survey conducted by Cozi, 40% of the 4,169 households surveyed admitted to using sticky notes to manage their family activities!
Introducing Cozi a FREE web service that helps busy families manage crazy schedules, track shopping and to do lists, organize household chores and stay in communication, all in one easy-to-use solution. Cozi not only provides a shared family calendar, but also includes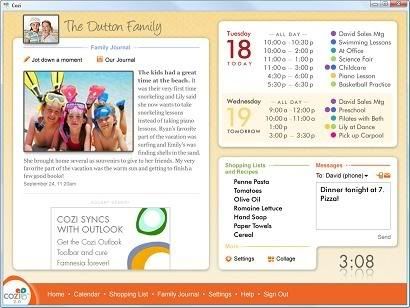 Customized shopping lists
You'll also be able to send a quick note or reminder right from your Cozi family home page to keep everyone on track. You don't even need a cell phone to send text messages.
"In addition to the ways that moms can get their shopping lists and calendars already on any mobile phone via text message and using our toll free number, Cozi now has a mobile version especially for the iPhone and Windows Mobile phones. Families can now sign-in and access their Cozi account using their mobile web browsers. They can add and edit shopping lists and view and edit their family calendar using the mobile version of Cozi right from their iPhone. This is a new feature! You can learn more about it HERE

Imagine ~ the ability to communicate schedule updates to family members at home, work, or school.
Since today's moms (and Grandmoms!) are so technologically connected ~ with Cozi, we can get shopping lists and schedules on any mobile and everyone in the family has access to the same information. Cozi even syncs with Outlook.
Let Cozi help YOUR family keep their resolutions to get and stay organized in the New Year.
For more information, visit Cozi
Bonus! Read On!
From now through February 4, 2009, everyone who signs up and tries Cozi will also be entered to win a two-day home organization makeover with professional organizer, and incoming NAPO President (National Association of Professional Organizers), Laura Leist. In Laura's two-day visit, she will makeover either the kitchen or home office in one lucky winners' home; a service with a retail value of $5,000.