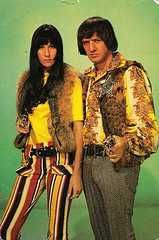 The beat goes on, the beat goes on
 Drums keep pounding a rhythm to the brain 
La de da de dee, la de da de da
Sonny and Cher
You know, being a Baby Boomer has its advantages.  I'm so happy the Internet evolved.  It's the perfect platform for Boomers to continue to protest and grandstand.  As I came of age in the early '70s, I was in college during the Peace Rallies, Love-Ins and Protest Demonstrations.  So hang on to your Jimmy Choo's, now that I have a Blog, I can fulfill my inner New England Curmudgeon, feminist, bra-burning, march-to-the-tune-of-a-different-drummer beat.  "And the Beat Goes On…"
So goes the continuing saga of my experiences as an Affiliate Rep.  I'm beginning to question whether this is something I really want to be associated with.  The products are great, but the methods and tactics some of you WAHMs use to promote and peddle your wares are definitely questionable.
Come' on ladies, if you're a WAHM signed up to be an Affiliate Marketer, you a) either have young kids or b) have grown kids.  Don't you read the news, Blogs, whatever?  – there's a whole generation of kids being raised  with a bad case of the "gimmies"  who think they should be living a life of entitlement and instant self-gratification.   I posted about this awhile ago during the holiday shopping season here.
This is an actual portion of a post from a WAHM (I'm led to believe) that appeared within the last day or so  on a Yahoo Group Affiliate Membership forum that I belong to:
….I don't have any teen girls, How is the best way to find them with out seeming like the creeping lady on the corner outside of school? Most of my friends have small kids, (under 10) Thanks for any help.
This person was trying to infiltrate the 'tween set to peddle products that might be of interest to 'tweens.
And here was my posted response:
Hi ~

There are many charitable organizations out and around that are really looking for volunteers to help with teen mentoring  programs or the disadvantaged.

I would suggest checking with your local social services agencies, church groups, school PTA's, after school programs, YWCAs and the like.  I'm sure they'd be more than happy to assign you to work with and get to know some teens!
Sarcasm intended.  Get real.  Now I'm a mom of 2 grown daughters.  One's a college grad ~ the other's finishing her Junior year in college.  Ever hear about the credit card offers that come in daily targeting these kids?  Ever wonder why they're graduating with a mountain of credit card debt (mine did Not and are Not) and student loans before they even get a chance to cash their first post-college paycheck?
Are you WAHMs that desperate that you have to go after the middle school set to push your products?  Shame on you.
While I believe in many of the products I offer, I'd like to think I'm not desperate.  If you click on my banners and like the products enough to make a purchase, fine.  But you won't find me trying to be a pusher and sell to kids who should instead be learning about money-management.  They get enough of that in 'tween magazines, radio, TV and peer pressure.
Anyone out there have a conscience?