Eco Store
USA

~ No Nasty Chemicals

When I was a senior in high school, the first Earth Day took place on
April 22, 1970. My husband and I graduated high school together, and he recalls that he flew out from Connecticut to Milwaukee, WI and back the same day to go on a college tour. The campus he visited was hosting many celebrations that day, which he thought was so cool! As luck would have it, he was accepted and attended that college.

Now that I'm a Baby Boomer, many in my generation are re-discovering and returning to re-visit our eco-conscious days of our youth. We are realizing that eco- friendly, plant-based household cleaning products are as effective as the leading supermarket brands, gentle on our skin, and easy to use.

I recently had the opportunity to try several products from Ecostore USA. All of their products are made from plant- and mineral-based ingredients, free of toxic chemicals that bring people closer to nature with non-toxic, environmentally safe solutions that also help to reduce our carbon footprint.
Our products also help to ensure value for the dollar for our customers. We know it can be expensive to buy natural or organic products but we've found a way to safely super-concentrate our formulations. Our super-concentrates means that a little really does go a long way – saving you money by cutting down significantly on cost per use.
The products I tried were full-size containers of: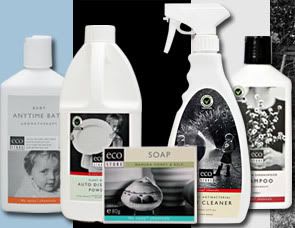 Plant Based Toilet Cleaner
Naturally Antibacterial Spray Cleaner
Naturally Active Pure Oxygen Whitner; and
Plant Based Super Concentrate Laundry Liquid
These products cleaned remarkably well, and were easy to use. While scent and fragrance are both subjective in nature, each produced a "just clean" smell, without any particular "flower" or "perfume" fragrance.
In the case of the Super Concentrate Laundry Liquid, I used far less than the brand I normally buy when grocery shopping. Used in conjunction with the Pure Oxygen Whitner, my family's laundry (including the grandkiddos') came out exceptionally clean!
Ecostore USA products are now available in the USA market, and will be available at MEIJER in early spring.
For more information visit: EcoStore USA
Review possible courtesy of Mom Bloggers Club