Blog Hop Meme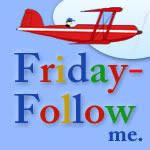 Welcome to the 2nd Friday Follow hosted by your awesome hostesses, Stephanie at Babes Rockin Mami, Michelle at Mommy Loves Stilettos, and Laura at Vodka Logic! Thank you ladies for being willing to host!
I'm excited to be part of this new Blog Hop meme!
You're invited join us every Friday to get more blog followers and to find many interesting blogs that you like. This is all about sharing and having fun.
Please be on your honor and to have fun. These are only guidelines to make it more enjoyable for you. Here's how YOU can join the Friday Follow celebration:
* Link up your blog name and URL using the McLinky below. Only need to add on one blog to be seen on all the blog hops.
* Grab the Friday Follow button on the right side and include on your Friday Follow blog post with the linky information which you can find at the bottom of the post.
* Follow Friday-Follow.com so you can see the current things going on. If you haven't checked out the website yet, please do so. If you have any problems with the button, it's a great place to get it.
* Follow the Friday Follow hostesses listed in the first 3 slots. (One of the benefits of being a host/hostess).
* Follow as many other blogs on the linky as you'd like.
* Take a moment to comment on the blogs telling them you're from Friday Follow.
As always, we are trying to improve the Friday Follow so here are a couple of rules to make the experience even better for you:
* Only one link per blog. We do have a giveaway tab that you can include your giveaways on.
* Please try to keep your post current so that people can see your showcased work.
* Follow someone back if they follow you – this is common courtesy.
* No xxrated blogs.
* No spammers.
* Please leave your url so that others can easily follow you back. Someone requested me add this.
This list is new each week. The links do not carry over. Please link up each week for new participants to find your blogs. The list is only open to add your blog links on Fridays. It will be visible all week to visit the blogs listed.