Bermuda Scooter
Bermuda Tetanus Shot
I came across a great little blog ~ Mature Not Senile, which caught my eye – primarily because I thought it was something I could identify with.
The post was captioned Get A Scooter And Save Money On Gas." What a great topic thought I, given the astronomical cost of gas rising on a daily basis. I left a polite comment suggesting that they be careful when out & about.
Here's why.
The Hubster and I won a 7-day trip to Bermuda through a raffle sponsored by my oldest daughter's  college Lacrosse team about 4 years ago. To make a long story short, we took a Bermuda honeymoon a lifetime ago. So I was really looking forward to going back. We were originally scheduled to go in September, but the night before we were to leave, Bermuda got hit by Hurricane Fabian. It was an omen of things to come. Now I have a Bermuda Shark Oil Hurricane barometer.
We re-booked for April and arrived on a Saturday.
This is me on the scooter we rented on a Sunday morning out for a jaunt about the island. Pretty cool for a Grandmother, huh? On our honeymoon, we rented mopeds (like bicycles with motors.) I could handle those, barely.
>
This is me about 10 minutes later, after I fell off the scooter. Standing in front of the Sonesta Beach Hotel, where we stayed on our honeymoon. (Partially destroyed by Hurricane Fabian.) Notice the ice pack on my left wrist.
And this
>
is the Emergency Room entrance to The King Edward VII Memorial Hospital, Bermuda's finest. They were really nice to me there ~ especially since I got put under General Anethesia to repair (temporarily) my broken bones and shattered wrist. They wanted to keep me overnight. Hell no. I'm staying in the really nice resort we booked for a week.
It's nice to know the hospital takes American Express!
This
>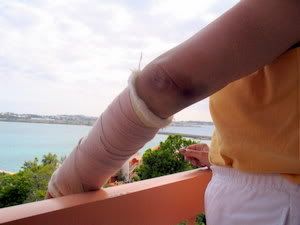 and this
>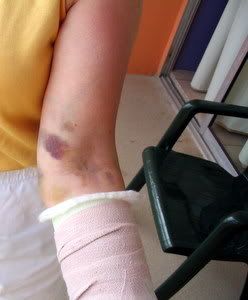 is what my wrist and arm looked like for the rest of the week. I had an external fixator put in when I got home, and 5 months of physical therapy afterwards! I got to take home a Souvenir Tetanus Shot Certificate for my scrapbook!
Here's what an external fixator looks like:
>
and this is the surgery I had when I got home after the doc put me back together again.
>
and finally,
>
Here I am with my arm in a cast (but a nice tropical, Jimmy Buffett type sling) – now reduced to touring the island ~ by taxi & bus ~ just like the Baby Boomer I should have realized I am. So much for thinking I was still the new Bride, tooting around on a moped with the breeze blowing in my hair, or swimming at Horseshoe Bay on this trip. No rum swizzles, just meds. (OK, maybe one rum swizzle.)
Had to put the bikini away.
BTW, if you're wondering what the sign around my neck says, it's "I'm a gossip & a nag." We were at 'ye old town dunking' in St. George's.
So when I hear people talking about getting scooters to save gas ~ well, yes, it could be a good idea. But not for me!
These Boomer bones don't heal like they used to!
If you get a scooter – drive safely!
© Moomettes Magnificents