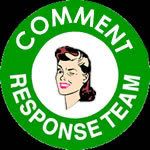 Help Celebrate Comment Response Month this month!
I'm participating in the Weekly Memes at Sited and Blogged. They have some really neat ones going on.
Make a Commitment to respond a certain number of comments a day. While responding to all comments may not be a reality for many of us, responding to 5 may be a good way to thank our readers while generating more blog traffic. If you have CommentLuv installed, it's also a good way for your readers to learn more about your blog and posts.
Memes are also a great way to add interesting "tidbits" of info about yourself and let your readers share some qualities of their own!

Visit Sited and Blogged for more information and to see what the daily Memes are!
Go ahead, leave me some Comments! I'll return the luv!
© 2011 C. Matthews