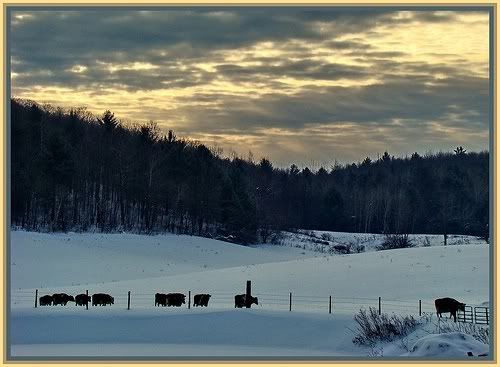 Winter Solstice
#####
What you don't have you don't need it now
What you don't know you can feel it somehow
What you don't have you don't need it now
Don't need it now
Was a beautiful day
U2
The end of a year is always bittersweet.  It makes me give pause to think of all the wonderful things that I have accomplished and that have happened during the year.
At the same time, it is always a time for reflection to see which goals I succeed in attaining and which ones I didn't.
I've decided to set some pretty lofty goals for myself in the New Year 2009.
Although 2008 was pretty successful.  I did manage to generate some income from my blogs through affiliate marketing and advertising revenue, although not enough to retire on (which many of you know is my goal.)  I'll be covering more on this topic in the New Year.
Connecticut has been affected by the economy, and it's not that far a fetch to say I might be among those laid off in the new year.  Hopefully I'll be offered an early retirement.  I would seriously enjoy babysitting for my grandchildren, but wouldn't be able to do it full-time.  I established my Virtual Assistant website, CAM Virtual Assistant Services; created a professional Twitter ID and joined many forums and professional organizations  in order to have it up and running when the wind changes direction.
I'm winding down my eBay store as I believe that eBay has tanked this year.  Several changes have been implemented this past year that negatively affected the small seller as well as turned off buyers.   Seeing the writing on the wall, I began liquidating my inventory early this past summer.  I'll be discussing my thoughts in greater detail in January.
Although my eBay Store where I maintained Power Seller status will be winding down, my interest still remains in Vintage Collectibles, which I offer along with hand-crafted artisan baby clothing, home decor and jewelry items directly at my boutique store, Moomette's Magnificents Olde Towne Shoppes.  I still stay pretty busy!
Due to the success of the Product Reviews that I've been asked to do, I branched out and recently launched a separate  product review blog, Moomette's Magnificents Reviews.  I'm really pleased with the direction that portion of my blogging career has taken, and will be working on tweaking the design of my new blog.
Additionally,  I'd been invited to become a Contributing Editor at Frugal WAHMs Product Reviews and Roxy's Best of…Hartford.
My Moomette's Mama Mentor blog continues to give me an outlet to express my lighter side.  I enjoy discussing the ups and downs of family life, cooking, women's health issues and general topics.  Although not political by nature, I actively took part in this year's election process, reaching back to my college protest days and found my Feminist voice again.
Many new, interesting  Web 2.0 networking sites were created this year, and I have quickly joined several.  Through these sites and Twitter,  I've made some new valuable contacts, became fast friends with many like-minded people and exchanged some wonderful ideas that I hope to implement in 2009.
Lastly, with those changes now in place and my ducks all in a row, I can now concentrate on providing the work at home tips and commentary that I set out to achieve on this blog.
This gram doesn't sit back in her rocking chair….yet!
I look forward to a very productive 2009!
Happy New Year everyone!