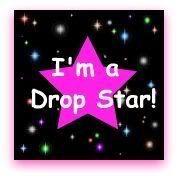 I've been officially honored as a "Drop Star" and awarded a badge by my friends Tina of Mummie Diaries (across the Pond in the U.K.) and Tammy (Canada) of Mommy Knows Everything! Yippee!
It's absolutely amazing how many new friends ~ SAHMs, WAHM, Grandmoms, Baby Boomers that I've made, and the variety of talented bloggers I've met through Entrecard!
I read all about their wonderful families, contests, money-savings ideas, recipes, share in their gripes, musings and more. No matter what part of the planet we're on, we all share a common denominator ~ seeking out friendship, and writing about our experiences.
If you want to know more about Entrecard and how you can join this vast community, read my post here.
Also, be sure to visit Tina & Tammy's sites to see how you too, can become a Drop Star! Thanks ladies!