Blogging Techniques
You can make your blog available to Kindle at Amazon.com. Kindle e-Book readers will be able to subscribe to your blog posts, and read them anywhere. Most Kindle blog subscriptions are 99 cents to about $2, and Amazon shares a portion of the revenue with you. Be aware that you aren't exactly going to be making millions of $$ from Kindle subscriptions. However, every penny counts, and more importantly, this is a terrific opportunity for bloggers to market their blog and generate interest outside of the typical and familiar blog-writing circles.
eBook Kindle Reader
I'd like to introduce my readers to Meet My Friend, Rebecca MeComber, author of The Older Geek. While recently visiting, I saw that she had several blogs on Kindle, and thought that's a great idea! I've met Rebeca through Entrecard as well as various forums and invited her to Guest Post on Moomette's Magnificents, and fortunately she was available to share blogging tips and techniques with my readers!
Besides sharing an interest in all things technological and geeky, I've followed all Rebecca's blogs, but the first one that caught my eye was NewYork Renovator.  Rebecca lives in upstate New York, which I've visited many times over the years as my brother lived in Rochester.  It's interesting to follow her story of renovating an 1855 farmhouse, and look at her detailed photos of the house, weather and world outside her door!
Follow Rebecca on Twitter @Rebemecomber
If you have a topic of interest that you'd like to share and be a Guest Blogger on Moomette's Magnificents, please contact me (see Contact tab above).
Before you submit a blog to Kindle, however, you must create a Kindle vendor account at Amazon. This vendor account is separate from the Amazon bookstore seller account.
Go to the Amazon Kindle sign up page. Here you are required to submit your name, address, and telephone number, as well as answer security questions for your account. Your only two options (as of this writing) for receiving payment for blog subscriptions is via a check that is mailed to you, or via direct deposit into your bank account. If you choose your bank account, you will need to submit your routing number and bank account number, as well.
Once this information is submitted, you can go on to the next step. It's easy to submit your blog to Amazon. You will need a few things before you start:
Your blog's RSS feed. It can be your Feedburner url or the basic RSS feed url available through your browser. For example, I have a Feedburner RSS feed that I use, but my basic browser RSS feed is the simple http://theoldergeek.com/feeds. You can use either one, just as long as it is a viable RSS feed. You can verify your feed through the Amazon sign-up page.
A screenshot of your blog homepage. If you have a Windows computer, you do this by pressing the keys "CTRL" and "PrtScn" on your keyboard. If you have Mac, press the Apple key, the "Shift" key and the "3" key simultaneously. Then open up your photo-editing software program (Paint Shop Pro, Irfanview, whatever) and press "CTRL" and "V" to paste the screenshot into the program. From there, you can crop the image. I recommend that you crop the image as small as you can, as Amazon will reduce it considerably to display it on the subscriber page.
A screenshot of your blog's header, or "masthead." Again, try to keep this image simplified. It will appear in black and white in the Kindle device.
When you are ready, go to the Amazon Kindle Sign Up Page. Fill in the information and upload the images. You can save your information to be completed at a later time, or see a preview of how your blog will look on Kindle before you actually publish your blog. I recommend that you take a peek at the preview to ensure your masthead looks appropriate.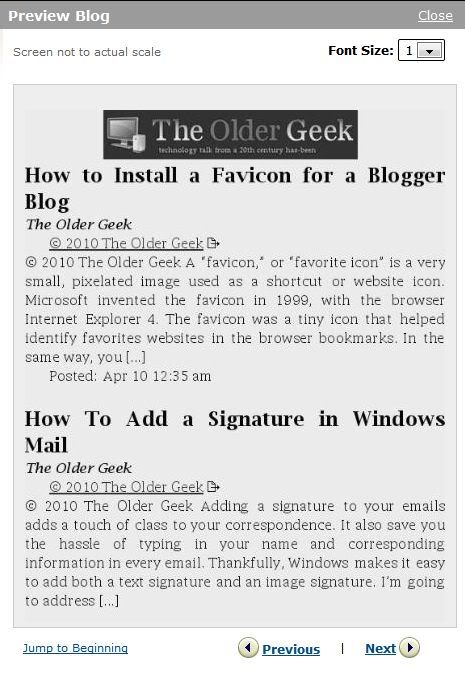 Finally, place a check in the Terms of Service confirmation box, and click the "Publish Blog to Kindle" button. You will be directed to your newly created Kindle account page. Your blog must be approved by the Kindle Powers That Be. I have found that blogs are usually approved in 24 hours or so.
Once approved, you can log in to your Kindle account and manage it: view subscriptions, view the Amazon subscription page, access help forums, and more.
And finally, don't forget to tell the world that you are on Kindle! You can create a nice badge to place on your blog. Make sure the badge links to your Kindle blog's subscription page.
Helpful Links:
Amazon Kindle sign up page
Kindle Publishing Forums
Bio:
A former radio personality, Rebecca Mecomber is now a pro-blogger and freelance writer. She currently owns a dozen blogs of various niches. She's been blogging and tinkering with electronics and computers for over two decades. She remembers the old days before VCRs, CDs, DVDs, and the WWW. She lives in Upstate New York with her husband, four teenagers, and five pets. Needless to say, she drinks a lot of coffee…
© C. Matthews 2010