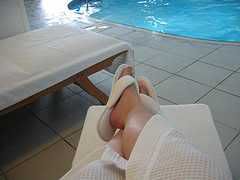 It's going to be a busy weekend for me. My niece is getting married and the wedding is going to be held at one of the premier wedding facilities in Connecticut. That means that this Hot Momma Baby Boomer blogging Grandma has to get her act together.
Now that the lazy, crazy, hazy days of summer are upon us, I decided it was high time I treated myself to a pedicure. Since I'm going to be wearing some spiffy, trendy strappy toe sandals to go with my  boutique halter-back silk evening dress, my tootsies have to be up to snuff.
In addition to the spa pedicures that I get at the salon I go to, the icing on the cake is the back message that they give when your little piggies are under the dryer! The technicians must have gone to some terrific massage therapy schools to learn the trade for their careers!
Just call me "Twinkle Toes"~