New Children's DVD Release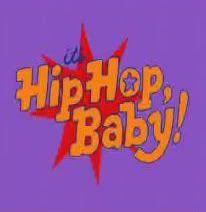 When my daughters got their drivers' licenses, I thought my days of shuttling and transporting the little darlings about town were over.
It's amazing how quickly time flies.  My oldest daughter returned to work full-time today after being out on maternity leave.  Baby Boomer Grandma, here, is now the "Designated Driver" to pick the grandchildren up from daycare and bring them back to my house until their parents come to collect them after work.
Since I'm not the agile young mom I once was, after struggling to put them in car-seats far more complicated (yet safer) than when their mom was little, 'Lil Moomette asked me to put in her favorite CD.
I've been asked to review an audio CD and DVD of  "It's Hip Hop Baby!"

It's Hip Hop Baby is launching nationwide this month and will be available on Amazon.com The brand's first four DVD programs for children ages 2 through 6 teach children to experience the joys of learning their ABC's, animals, body parts, and numbers through fun-filled musical performances and interviews with the hip hop kids.
It's easy to see how It's Hip Hop Baby quickly became a favorite of
'Lil Moomette's!  Although she had been hearing many of the rhymes and songs before, she danced around gleefully to the captivating popular genre of music known as "Hip Hop" and said "I know that!" It was even a great exercise activity for Grandma to dance around the house with her too as I don't have a Wii Fit!

Introduce your child or grandchildren to the music and rhythm of Hip Hop Baby! It'll be the perfect addition if you home school your children or are a daycare provider looking to add a fun-filled educational experience to your favorite little one's day!
Visit Hip Hop Baby at: It's Hip Hop Baby
Moomette's Magnificents Reviews is hosting a Giveaway! One lucky winner will win an audio CD and DVD from It's Hip Hop Baby!
Main Rule: (remember if this rule is not followed then no others will count)
Just visit It's Hip Hop Baby and leave a comment about what you like best about their site and a fact that wasn't mentioned in this post.
Now for extra entries (each task will get you 1 extra entry):
~One Extra Entry: Subscribe to my blog through my Feedblitz link (on the top of my left column or let me know if you already are, in a separate comment)
~One Extra Entry: Add my banner button to your sidebar or add me to your blogroll, and come back here and leave the link (I will be checking)
~One Extra Entry: Blog about the contest on your blog linking to my blog and the site
~One Extra Entry: Favorite Moomette's Magnificents Reviews  in Technorati and leave your name (I will be checking) in a separate comment  (the link is on my left column if you scroll down) or both.
~ One Extra Entry: Follow Me on Twitter and let me know your Twitter name in a separate comment.
~One Extra Entry: Tweet about this contest, and come back to this post and leave the URL link to the Tweet so I can check.
Make sure you comment separately for each task after the required entry task so you will get credit for each one ~ and leave your e-mail where you can be contacted.
This contest will run until March 30 at approximately 11:00 pm.
Winners are chosen by Random.Org, if you want all your chances counted, make sure you leave individual comments, not all of them in one!
*Winner has 48 hours to contact me or another name will be chosen.
*Include your email if it's not enabled.
*Open to USA Only
*Rules for each entry must be followed to be valid.
Random Integer Generator
Here are your random numbers:
11
Timestamp: 2009-03-31 03:51:02 UTC