Leg Huggers ~ Accessories for the Legs
When my youngest daughter was little, she loved to imitate the dancers she saw on TV and dance around the house. Her love of dancing manifested itself throughout the years, and she ended up taking dancing lessons all through high school.
We have many dance costumes still in the cedar closet. Many artistic and creative people are known for their unique style of clothing choices. Among a dancer's favorite item were leg warmers. You'd see them being worn throughout many college towns here in New England.
Recently I was contacted by Leg Huggers to review a new line specifically marketed for infants, babies and toddlers. Of course, 'Lil Moomette, age 2, would make the perfect model!
Leg Warmers are designed to be fashionable and functional all in one.
Designed perfectly to fit over baby's legs, they provide warmth from the elements and an added layer under dresses or over short pants. EC babies are still protected, yet easily accessible. No more baggy tights or socks that fall off, these stay on and are always comfortable.
These adorable Leg Huggers are made using sustainable, eco-friendly bamboo. Bamboo has unique, inherent properties making it a beautiful and luxurious product. Known for its drape and silky feel, Leg Huggers hugs the legs in comfort. They provide a natural UV protection along with an anti-bacterial and moisture wicking properties. Bamboo is hypoallergenic, making it non-irritating for sensitive skin.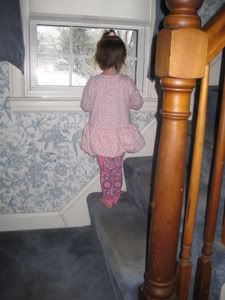 If you aren't familiar with Bamboo fiber, it is described as being "softer than the softest cotton" and has a natural sheen to the surface and feels similar to silk or cashmere. The best feature about Bamboo fiber is that it has a very high soil release value and therefore is durable so you can throw it in the washer and dryer.
Leg Huggers are designed to fit your child's legs perfectly.
They measure 13 inches long and have a 1-inch knitted, elastic ribbing on both ends.
* Breathable
* Wicks Away Moisture
* UV Protective
* Odor Resistant
* Antibacterial
* Soft and Comfortable
* No Chemicals or Pesticides
Do you know a little girl who would love to dance around the house like a Ballerina in these cuties? Pick some up now for Baby Showers,
Valentine's Day, Birthdays, or those days when cabin fever sets in and she can play Dress-Up all day long!

For More Information Visit: Leg Huggers