Kids are tech savvy and tablets are a frequently requested gift item.  My granddaughter got an "Oregon Scientific" Meep tablet for kids for Christmas this year.  However, even for this Geek Grandmother, setting up a Meep tablet was a challenge.
Technology for Kids
"MEEP! is an innovative, interactive, rugged Wi-Fi enabled tablet featuring amazing zForce® touch screen technology designed for kids age 6 and above. Access a vast library of pre-loaded games, apps, e-books and more all at the touch of your finger. Plus download hundreds of action packed games, challenging learning activities and more. All that's needed is your imagination and the desire to have a blast!"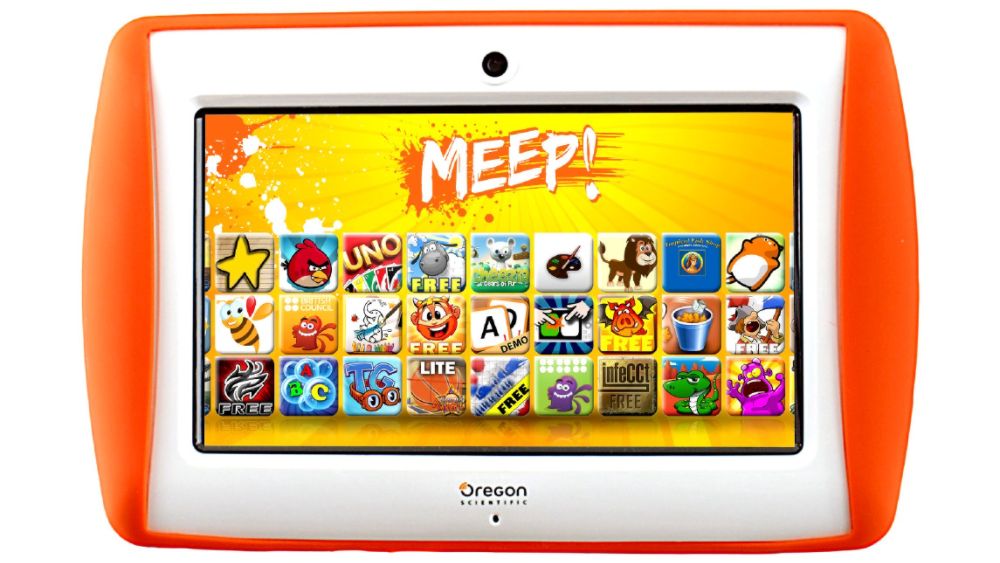 As a New England Mom blogger, this grandmother likes to think she is actually more tech-savy than her children.  After all, I have two blogs, (my review blog, and my food blog – Frugal New England Kitchen.) I'm familiar with WordPress, html and smartphones (I prefer an iPhone).  I own an Acer Netbook, and the Amazon Kindle is on my Wishlist for my birthday.
Grandmom knows her way around social media as you can see by my Fan Pages on Facebook and Pinterest.
However, when asked by my daughter to set up the Meep for my granddaughter, it was definitely a challenge.
First, I had to create a Parent account on the Meep Together Parental Portal.  While I didn't have any trouble accessing the site, according to their Facebook Fan Page, many people did.  Actually, for days.
Don't try to access the Parental Portal on FireFox as the Portal only supports Google Chrome or Safari web browser.
It is here that you can set parental controls.  Parental controls including giving access to browsing the web,  purchasing apps and games, viewing YouTube videos, emailing, or chatting with friends.
The Meep comes pre-loaded with some limited basic games and apps for preschoolers and kids.  No e-Books for kids were pre-loaded.
Meep Apps
The Meep store is where parents or grandparents can access and download Apps for preschoolers, kids or grandchildren.  Some are Free Apps while others are available for purchase.
You can also download Free eBooks for kids, and purchase other eBooks.
Google Play Store
Another feature available on the Parental Portal is that you can set up on the Meep Tablet is a Google Play account for kids.
Google Play is the app store, it's like the Android version of iTunes. Parents or Grandparents can log into the Meep portal on the computer and go to the parental controls  to find "Open Google Play". It should walk you through setting up or connecting a Google account to it. Once you do that, you can send apps from Google Play to the Meep and it'll also give you access to more apps and games in the Meep Store.  You have to add money to purchase "coins" that are added to the Meep Store account.
One of my Facebook friends suggested setting up another account just for Google Play.  Use that account to log into Play as it will keep anyone else from having access to your Gmail account and other Google stuff, such as Google Docs if you use your own account.
It took multiple attempts to access and download the free games, apps and ebooks over the Christmas holiday.  My granddaughter had to leave her Meep tablet with me, as downloads are only available over Wi-Fi.  During this period, Meep issued upgrades to multiple versions of their Android operating system.
I had to follow the Meep Tablet USA Facebook Fan Page to see how the company was addressing the issues that people were having.  There is also a MEEP Table Europe Facebook Fan Page.  People were not happy that the MEEP went to market before all of the technical issues were addressed.
Many were returning their Meeps for refunds, leaving many children unhappy as with a $150 price point, this was a major gift item.
Had I been purchasing a tablet for my grandchildren, I would have conducted more research.  I have read good reviews about the Nabi, iPad and "Kindle Fire", which offer more features than the Meep.
This Meep tablet has been over my house for set-up more than it has been at my granddaughter's house. It's now back yet again because Meep has made an announcement that it is offering 5 free games to thank users for their "patience and understanding" for all the problems everyone had setting up their Meep.
As a tech-savvy grandparent, I actually find it extremely un-user friendly, and difficult to use.
I recommend that you read internet tablet reviews before buying a tablet for your kids or grandchildren.  Read the FAQ on tablet websites.  "Like" technology websites on Facebook, and read what users have to say.
If you're looking for an educational toy or educational tablet if you homeschool, read before spending your hard-earned money on such an expensive item.
For More Information: meeptablet.com/us/
© Moomettes Magnificents
Personal Review.  Opinions are my own.