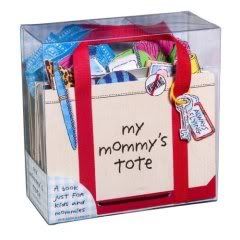 When my daughters were younger and birthdays or holidays were approaching, I can always remember scratching my head to try to find the perfect gift.
Whether a gift for my girls, or gifts for a birthday party for their friends or my niece, it was challenging to come up with something that would stimulate creative play and their young minds.
'Lil Moomette is just at that age now where she likes to emulate her Mom ~ carrying small purses and a miniature play cell-phone that she tries to call everyone on (stimulating her vocabulary too!)
I'm delighted to have the opportunity to review My Mommy's Tote.  This is a compact, take-along bag that will keep any toddler or pre-schooler  entertained for hours!  It's jam-packed inside with enough activities to keep any child 3 and up busy!
My Mommy's Tote is also a great activity toy for home schoolers or as a special activity toy for Grandparents to keep around when the grandchildren come to visit.
From the Back Cover

"My mommy is so busy, just like me!"
Cuter than a button, My Mommy's Tote is a delicious interactive gift for mothers and kids, a die-cut cornucopia stuffed with marvelous adventures and surprises, endearingly written.
* There's the clock with hands that move
* A maze to navigate
* A spin wheel for learning the alphabet and numbers
* A special pen to draw on the write-on, wipe-off board
* Mommy's laptop, cell phone, and wallet with a removable credit card
In all, there are more than 75 objects and 30 activities where things lift up, slide out, unfold, flip open and beguile. The magic and discovery go one and on.
P.H. Hanson Has Three Children and Lives in New York City.
Recommended Age is 3+
Available on Amazon.com