From the Mountains to the Ocean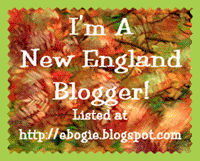 Come join the blog hop where you'll meet some wonderful bloggers from New England.  You'll find groups of Work-at-Home Moms, Baby Boomers, SAHM, Grams, Review, Giveaway, Crafting and Jewelry designers, Coupon & Frugal writers who are as diverse as the states comprised of the 6 original Colonies known as "New England."
Welcome to New England and Connecticut, Land of Steady Habits
You Know You're From New England When:
You've worn shorts and a parka at the same time
You consider 65 degree ocean water "warm"
You have switched from "heat" to "A/C" in the same day and back again
There are 25 Dunkin' Donuts within 20 minutes of your house
You have ever missed school due to "Mud"
You get mad when people assume New York is part of New England
Sox-Yankees games are a life and death matter
It's all true …
I'd like to thank Thoughts from an Evil Overload for hosting this blog hop. When I first came across Elizabeth's blog I was over-joyed to realize that there were so many diverse bloggers in New England!
I have a special GIVEAWAY here just for Visiting My Blog today, so be sure to read to the end!
Today I'll be introducing you to other New England bloggers – we're such friendly folk! Make sure to visit the Linky!
On my journey visiting the extensive list, my eye was immediately drawn to The Cape Cod Rambling Rose.
Over the years our family has spent a tremendous amount of time on the Cape, and it's probably one of my most favorite places to visit.  We even considered for awhile buying a second home in the Eastham – Wellfleet area.
Louise, the author of Cape Cod Rambling Rose,  considers herself a "washashore," but her husband's family has been on the Cape since 1623! When she isn't busy tending to her 4 young school-age children, Louise shares her daily routine on the Cape through beautiful photographic images. She also enjoys volunteering, beach walks and offering magnificent beach~inspired jewelry, vintage embellished journals and albums, as well as romantic homegoods for her Etsy shop, Cape Cod Cupboard. When you visit her, please be sure to let her know that Cindi sent you from the New England Bloggers Blog Hop!
Visit at: Cape Cod Rambling Rose
I'm Cindi, a Baby-Boomer wife, mom of 2 grown daughters, 2 grandchildren & hail from New England.
Now do you want to know more about me? Read my 101 Random Things About Me post where I spill all the sordid details on the Baby Boomer Grandmom behind this blog!
You'll see from my Featured Content Gallery on my home page that I'm a big cheerleader for our neck of the woods on the East Coast – in my Meme section I like to feature scenic photography shots from some of my family road trips.
I've posted so many, but these are among my favorites:
Be sure to visit and don't miss my posts on  leaf-peeping season in Ogunquit, Maine and Vermont Mountains in winter, if only for the photography!
I offer Product Reviews from the perspective of a "Baby Boomer Grandmom Who's Been Around the Block." Don't forget to check the tabs up above, and my sidebar where I have my favorite Best of 2009 articles, along with Blogging Tips, Social Media posts and Work-At-Home posts – all in one easy-to-find spot!
I'm also the author of Frugal New England Kitchen, for old-fashioned comfort food recipes, coupons, kitchen tips, reviews and giveaways.
At Great Finds and Giveaways, which I just launched last week, you can enter for a chance to win a Keurig B60 Special Edition System Brewing System!  Who can't use a good cuppa Joe on a cold New England winter's night?
You'll also be able to add and promote your Giveaway Linky to my Master List!
Subscribe to my newsletter or in a reader if you like what you see!
You can connect with me at:
Twitter: @Moomettes
Facebook: Moomette's Magnificents

Visit my New England lenses:
Where to Shop for New England Comfort Food
Old-Fashion New England Yankee Recipes and Cooking
I'm so happy you stopped by ~ Whether you're a regular reader or visiting for the first time, introduce yourself and be sure to leave me a comment so I'll return the visit & get to know you! Leave your Twitter name in the fill-in box and I'll be sure to give you a shout-out for visiting!
One last Goodie before you go!
Moomette's Magnificents is hosting my own Giveaway Contest for more party fun! For a chance to win, there will be one (1) winner of a Simple Pleasures Coconut & Sugar Cane travel set.
You'll be getting:
1) Hand Lotion-2 fl.oz.
2) Shower Gel-2 fl.oz.
3) Body Mist-2 fl.oz.
4) Body Lotion-2 fl.oz.
All 4 of these products come in it's own mesh zippered bag. Fits perfectly into any small space in your suitcase and they're all just the right size for travel or a weekend getaway!
Please include a way of contacting you. Should you be the contest winner, this information is necessary in order to send your prize.
Main Rule: (remember if this rule is not followed then no others will count)
a) Sign up for my free Newsletter Updates to my blog through my e-mail Feedblitz link (on the top of my right column or let me know if you already are, in a separate comment) AND
b) Leave a comment on a non-giveaway post on my blog! (please leave the title of the post in a separate comment)
*Open to USA and Canada Only

For Additional Entries, check out my Contest Entry Rules.
This contest will run until July 1, 2010  at 11:00 pm. EDT
Thanks for visiting and please stop by again and Visit my New England friends on this Blog Hop!!