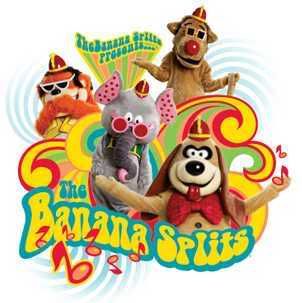 The Banana Splits, a hugely popular costumed rock band from the '60s is back! The Banana Splits are fondly remembered by Baby Boomers for their unique combination of kid-style comedy and contemporary music!
Now share the excitement with your own children or even grandchildren!
The Classic '60s TV and Music Icons Return With New Comedy Shorts on Cartoon Network, Music Videos, Website and Live Entertainment.
Starting September 2nd, The Banana Splits will star in a brand new comedy shorts and music videos on the Cartoon Network.  This Fab Four – Fleegle (a dog), Drooper (a lion), Bingo (a gorilla) and Snorky (an elephant) are ready to introduce their unique style of humor and catchy music to a whole new generation of young fans!
Also debuting in August is the all new Banana splits website, where kids ages 4-7 can watch comedy shorts and music videos, play games and join the Banana Splits club at http://www.bananasplits.com
Want to know 5 Cool Things About BananaSplits.com?
1)  Phone-A-Joke: Does your kid love jokes (hearing them, telling them, making them up?) Why not have them phone in their favorite joke using the toll free number listed in the "Jokes" section.  If the 'Splits think its top notch, it'll be incorporated into the website!
2) Great Music (seriously):  Tired of listening to sugary sweet, repetitive, less-than-incredible kids' music?  Get your groove on with the oh-so-adult-friendly tunes available on the site.
3) Secret Codes:  What kid doesn't love a good secret code?  On BananaSplits.com, kids can check in daily to decipher a code, then solve a word puzzle to reveal – what else – a silly, groan-inducing, 'Splits style joke.
4) Fan Mail: Does your youngster have questions for the Furry Four?  Help them send an email in the "Fan Mail" section, and check back often to see if Fleegle, Snorky, Drooper or Bingo answers the email in a Fan Mail video.
5) The Banana Splits Club:  Much like secret codes, special clubs are kid nirvana.  Join the official Banana Splits Club to receive a downloadable membership certificate and Club Card (the best part is, no email addresses, phone numbers, or other personal info is requested – these 'Splits are a low key bunch!).
Your kids will really be enthralled with this colorful, action-packed and entertaining web site.  This is the perfect parent/child activity to encourage early computer use for your child while stimulating their senses.
Soon the Banana Splits will also be seen in concert tours, live appearances, as well as a wide range of exclusive merchandise including toys, games, books and apparel!
Warner Bros. Consumer Products
Check it out at http://www.bananasplits.com