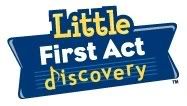 My two grandchildren are 2 years apart. My own grown daughters are 4 years apart. When they were toddlers, 4 years, in my mind, was a huge difference. Although DD25 did keep a watchful eye on her sister and (occasionally) entertained her.
It's different watching 'Lil Moomette who's 2, interact with Slugger, who's 4 months old. Still in the exploration stage of toddler-hood herself, 'Lil Moomette will try to 'share' some of her toys with her brother. It's cute, because she'll take something colorful, or musical, and place it near her brother when he's on a blanket. Slugger is just learning to roll over and will focus his attention on where the music is coming from.
I had the fantastic opportunity to review Penny Piano from Little First Act Discovery.   Penny Piano is one in a collection of  new Music Learning Pals.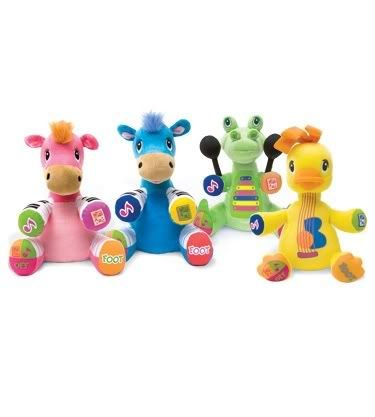 Recommended for children ages 6 months and up, Penny Piano is a toy that both 'Lil Moomette and her brother Slugger can both enjoy for the reasons I mentioned above.
Penny Piano encourages early music learning. Press one paw, and Penny Piano plays sign-along songs; ABC's; 123s; and musical activities.
Press another paw, and Penny sings to your little one:
Penny Piano fosters developmental milestones, which include an introduction to pitch, harmony and rhythm, as well as early language, counting skills and cause and effect.
When the piano keys are pressed on the arms, your little ones will hear notes and songs.
What a wonderful gift for your own child, a grandchild or someone you know who'll be having a Birthday! If you're a Daycare Provider or Pre-School teacher, Penny Piano and the collection of Music Learning Pals would make an excellent addition to your daily routine.
For more information, visit: http://www.littlefirstactdiscovery.com/
Brought to you by Twittermoms.