Plum Organic's Kids Meals and Baby Foods
As any Mom or Grandmom knows, kids can be fussy eaters.  Each of my girls had specific preferences in their choice of food while growing up.  These idiosyncrasies manifested themselves even as infants.
My oldest daughter, always a good eater, thoroughly enjoyed her vegetables, while my youngest daughter preferred fruit.
Now that I'm a grandmom, I chuckle to watch how my two grandchildren are so different.  'Lil Moomette (age 2) would win an award for being probably the world's fussiest eater.  She eats at our house frequently, and as much as we encourage a family sit-down style dinner, Moomette does much better just "grazing" on her own.
Slugger (5 months) is the total opposite of his sister.  Since I've never parented sons, it's a delight to watch this kid finish a bottle, and still be looking for more!  Recently he was introduced to fruits, vegetables and cereal.  His little mouth opens, and his eyes follow as he watches us eat!
Whole Foods recently opened a brand-new store over the river and through the woods in the next town over.  I jumped at the opportunity to try out the Plum Organic's Kids line of fruits and vegetables on Slugger.
Plum Organics Kids are Fresh. Frozen.Baby. Food. and are fortified with DHA and produced in different stages.
What is DHA?
DHA is an omega-3 fatty acid naturally occurring in breast milk.  It's a major structural component of the brain and eyes, representing about 97% of all omega-3 fats in the brain and 93% of all omega-3 fats in the retina.  DHA is a key nutrient for optimal brain, eye, and nervous system development in infants.

Plum Organics products are fortified with 100 percent vegetarian algae-based sustainable source.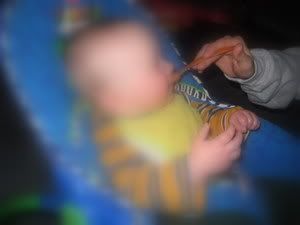 Here's Slugger enjoying his Plum Organic Sweet Potatoes!
His mom says he really enjoys the fresh taste and texture!
For More Information Visit: Plum Organics
Moomette's Magnificents Reviews is hosting a Giveaway!
Plum Organics was kind enough to send several coupons along for me to share with my readers. For a chance to win two coupons for either one (1) Plum Organics Kids or Baby Products.
To Enter: Visit Plum Organics and comment on this post, letting me know what other stores besides Whole Foods Plum Organic Products are available at.
Now for extra entries (each task will get you 1 extra entry):
~Subscribe to my blog via email through my Feedburner link (on the top of my left column)
~Add my banner button to your sidebar or add me to your blog roll.
~Blog about the contest on your blog, linking back to my blog  and this post.
~Go Favorite or Fan me on Technorati (the link is on my left column if you scroll down) or both.
~ Follow Me on Twitter
~Tweet about this contest. (Comment separately with the URL of your Tweet)
Make sure you comment separately for each task after the required entry task so you will get credit for each one ~ and leave your e-mail where you can be contacted.
Entires without a valid email address, or those that don't follow the Contest Rules will be disqualified.  Winner to be chosen via Random.org
This contest will run until January 28 at approximately 11:00 pm.
Winner:
Random Integer Generator
Here are your random numbers:
3
Timestamp: 2009-01-29 04:33:40 UTC