My daughters are grown, but as a Mom, I'm still always 'on-call.' That's just the way it is, and actually, I'm thankful that I have such a good relationship with my daughters.
Starting today, and probably through next Friday, I'm going to be on 'red-alert standby' to take care of 'Lil Moomette, as my daughter is due to deliver my grandson any day!
Every Grandma needs a goody bag to keep the kiddos occupied when going out to eat. (I like to go out to eat whenever I can!)
I have a Sister-In-Law who always has the most spectacular goody bags at-the ready for the grandchildren. You wouldn't believe what was in them to keep 5 grandkiddos occupied at a golf tournament! But the irony of it all was that my Sister-In-Law was never blessed with children of her own, and rather that the little darlings are my late Brother-in-Law's grandchildren!
Thus, I'm delighted to have the opportunity to review the Doodlebugz Crayon Pink Stripe Purse from the Doodlebugz Crayola Collection from Princess Linens!

Doodlebugz™ Crayola Crayon Purse-Pink Stripe
The Doodlebugz Crayon Purse is designed for children ages 3 and Up. The product that I received to review comes complete with a pad of paper, perfectly sized for small hands, and 10 Crayola washable crayons, and 16 outside crayon pocket-holder.
Made from a durable canvas-type fabric, this colorful handbag-style carrier is sure to be a hit with all the little Princesses! Don't they all like to carry a purse, just like Mommy?
Every little girl likes to see her name in print, and personalization is available.
Safety information on the plastic tube container that the purse comes in, indicates that the crayons are Non-Toxic and meet all ACMI Performance Standards.
Other products offered from the Doddlebugz Crayloa collection include Crayon Aprons & Toolbelts, Chalk Talk Table Mates & Doodlebags.
The second product that I am delighted to review from Princess Linens are the My First Scrubs!
Now if these aren't the cutest must-have's I've seen lately! I'm having so much fun discovering how little ones are becoming Fashionistas at such a young age!
Although my grandson is due any day now, I can just imagine how adorable these would be when he is toddling around! My First Scrubs are perfect for the doctor or nurse-to-be, and are so authentic! Made with 100% cotton, they have faux drawstring pants for authenticity, and are perfect for the new baby or older sibling. I was thinking they'd be a great idea to use as jammies, but are not marked 'flame resistant,' according to U.S. Standards, and are manufactured in China. In any event, they look super-comfy for casual playgroup wear, or just relaxing around the house. Dress them up with accessories ~ and you'd have a super easy Halloween Costume!
Available in sizes up to 4T in three colors:
Lab Green, "No More Blues" Blue, and Candystriper Pink. Lab Green scrubs are available in larger sizes up to size 8! Currently larger sizes are only available in Lab Green.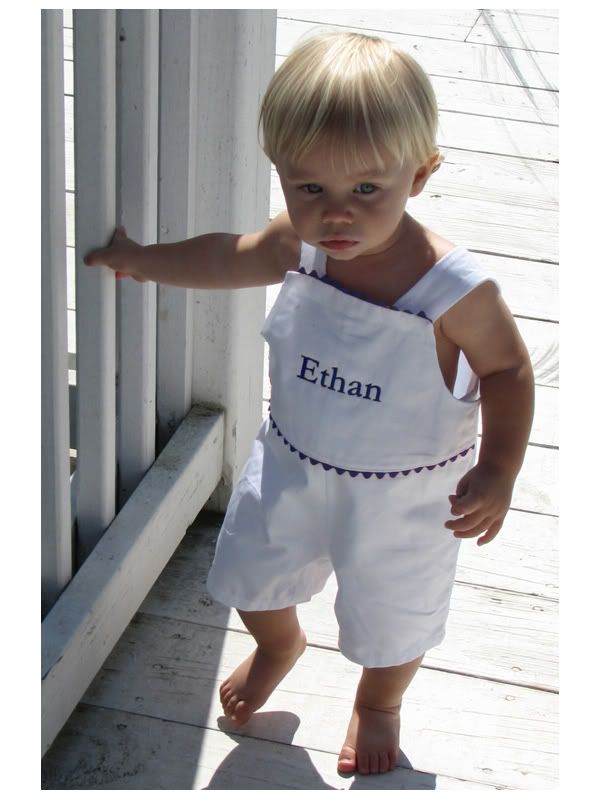 Princess Linens Fine Hand~Made Baby Gifts also offers Personalized shortalls and baby boy clothing. Princess Linens also offers luxury baby clothes, big brother gifts, big sister gifts, personalized bibs and personalized burp pads. I fell in love with the shortalls and rompers from The Hamptons Collection, personalized with the name "Ethan." ~ I think that's what my new grandson will be named! Made of 100% cotton pique.
Princess Linens would like to offer readers of Moomettesgram's Musings a coupon code (MOOMETTE) to receive a 15% Discount off of any purchases. Visit them at http://princesslinens.com
Wholesale orders also available.