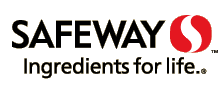 As my family gets older it's harder to shop for my grown daughters and try to please everyone. The grandchildren are growing so fast it's difficult to buy clothing sizes ahead, not knowing if they'll fit when the next season comes along.
Rather than spend what little precious time I do have, I like to give gift cards. Although the price of gas has dropped recently, it saves me time and money by not having to drive to pick out a gift, or return it it if it's the wrong size or color.
Fortunately, Safeway and its large family of stores can help you save money! Shop at Vons, Dominicks, Randalls, Tom Thumb, Genuardi's, Pavilions or Carrs to start earning Gas Rewards. Earn at the Pump!
Double your PowerPump Rewards through December 25, 2008 with the purchase of gift cards this holiday season. Your rewards add up automatically. Earn an additional reward for every $100 you spend on gift cards, including clothing, home improvement, electronics & more.  Exclusively with your Safeway Club Card.
Visit http://www.safeway.com/IFL/Grocery/PowerPump-Locator to easily find participating stores in your area.