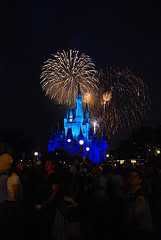 Now that summer's officially here, along with the hot, humid weather that I absolutely love (really), Darling Daughter and I were talking about the memorable family vacation we took to
Disney World in August many years ago.
The kiddos were about 7 and 11, and we had saved for a year to take that trip and stay at the Polynesian. My granddaughter, 'Lil Moomette, will turn 2 in October, and Darling Daughter is already making noises that she would like to make the trip again, only this time with both sets of grandparents in tow!
I think we'd have a blast, and hope that my Baby Boomer body will be able to keep up the pace like I did so long ago!
This time around, I'm going to let my daughter do the planning, and suggest she contact Trusted Tours & Attractions for reservations. There's plenty of things to do in Orlando that we didn't get to do the first time around. Charming Son-In-Law has been there with his family too, so we'll have to put our collaborative heads together and check out the online travel guides.
Since we're all from New England, we can get a jump start by flying out of New York, and maybe even leave a day ahead and take in some New York City tours!
Trusted Tours and Attractions offers discounted tickets to the best sightseeing tours in 23 cities across America.
Planning your next vacation? Looking for ideas on what to do? Sign up for the Trusted Travels newsletter and enter to win a handheld GPS Offer ends June 30th, 2008.