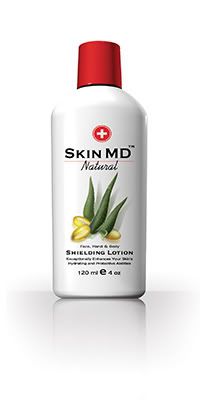 Recently I had the opportunity to obtain a Free Sample of Skin MD Natural Face, Hand & Body Shielding Lotion.
I was sent a full-size 4 oz.  (120 mL) bottle, along with 3 sample size packets.  A 4 oz. bottle will last approximately 1-2 months, with daily use.
I was very excited and eager to try this skin care product as I'm a Baby Boomer, and my skin has been around longer than some of the readers of this blog!  Putting it politely, I have what I consider "computer elbow."  I spend a tremendous amount of time on the Internet, and often rest my elbow on my pull-out keyboard tray.  This results in a discoloration and hard callous area on my elbow.
Although I've tried other natural skin care products that really haven't sufficiently provided any results, I gave Skin MD a 2-week trial period before writing this post.
Skin MD states:
• No animal products or testing
• Dermatology tested
• Fragrance and colorant free
• Hypoallergenic
• Paraben free
• Non-comedogenic
Shielding Lotions provide the following benefits ~
"Shielding Lotions form a protective shield with the outer layer of skin and help keep out irritants and chemicals. They also allow the natural oils and moisture to remain in the skin so it can heal better. They are light and go on without a greasy mess."
I applied the product 3-4 times daily and took the samples to my office.  Only small amounts are needed.  The lotion is extremely light, non-greasy, and virtually fragrance free.  I could immediately feel the difference as it glides on, and true-to-word, only a very slight application is needed, as the lotion spreads nicely.  It immediately eliminated the rough patches on my pesky elbow! I also applied the product to my knees, which could also stand a bit of help.  Why not, thought I?  Let's keep a good thing going!
Although I've been graced with pretty good genes compliments of my Grandmother who lived to be 101, I applied it underneath my eye area after using my normal moisturizer.  I also applied it between the area of my eyebrows, known as "the 11s," where fine lines tend to form.  Additionally, I have a pesky little area of eczema that breaks out occasionally during times of stress, and Skin MD Shielding Lotion eliminated the associated redness and puffiness considerably.
I give Skin MD Natural Shielding Lotion a Thumbs Up!
To get a Free Sample and try it yourself, visit Skin MD Natural.