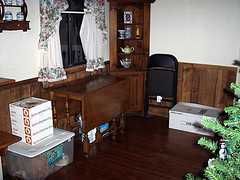 Continuing in my chronicles of trying to develop a work-at-home lifestyle in preparation for retirement, I'm going to address the issue of "getting your family on-board" and used to the idea that the dining room table is no longer for dining.  It has now become my "staging area."
Years ago when we were young, childless and full of energy, I used to entertain quite frequently (and quite elegantly, I might add.)  Those days are over, and I now need my dining room for my eBay Store shipping area, as well as for all the items for my product reviews.  Convincing the family that I am indeed, quite serious about this venture, has been to say the least, challenging.
Taking on a home business venture is difficult enough. Getting your family to support you may be the difference between your business success and failure. From your family's point of view, this working at home thing has both it's good and bad points.
Your "too young for school" age children love having you at home because they like doing things with you, whether it's baking cookies or playing in the sandbox.
Your school age children find it pretty handy having mom at home to drive them to their soccer games or have their friends over to play. They even like having you come to school to volunteer in their classroom.
Teenagers are a harder sell. They like that you can drive them to the mall or bring them to work. They however may not be really fond of the fact that you always seem to be around.
If, like me, you might be a Baby Boomer Grandma, working at home might seem like an open invitation to drop the grandkiddos off at a moment's notice when a babysitter is needed.
Now your husband probably sees both sides. He loves that his wife is home taking care of the house and the kids and making a nice supper each evening. He's even proud of what and says he supports you in what you are doing and may even be amazed at how you manage to pull it all off and make it seem easy.
He's not as keen on the fact that your income has dropped if you used to have a "real" job and are not making the same amount of money as a WAHM. He probably is not too crazy about the idea of having to pitch in more in the evenings so that you can get some work done. You're busier when he wants some attention and he has trouble understanding why, when you're home all day, you need to work in the evening.
The hardest person to get on-board may be your husband. He may not be convinced that you'll actually make any money with your venture.
So how do you overcome your family's objections to your working at home and get them on your side? Holding a family conference to discuss the issue is probably a good first step. During this conversation it's important for everyone to have their say and to share their feelings. By hearing what your children and husband think and how they perceive your home business venture, you'll know how best to explain your ideas.
Try to elicit a promise of your spouse's support for at least a period of several months, so you will have some time to get up and running. If he is very much opposed to your venture at least try to arrive at a compromise with him. Perhaps suggest that if you're not showing an income after a specified period of time, you'll give it up, put it on hold for awhile, or go back to work.
Come to some mutual agreement that you can both live with. This is how it becomes a win/win situation. You'll work even harder to prove you can do it and he'll be happy knowing that there will be a resolution.
Your family needs to realize the benefits of you working at home rather than outside the home. Point out how much extra help you'd need and the extra chores they'd have to do if you weren't working at home. This is usually a pretty persuasive argument when it comes to the kids and maybe even your husband too.
Talk about your feelings regarding having your own home business, whether you are considering a career as a real estate agent, eBay entrepreneur, boutique online store owner, or Etsy owner.  Discuss how important it is to you that they support you. The guilt card, when used properly, can be very effective.
Involve everyone in the decision about your venture. Listen to each and every family member and take their feelings into consideration and ask that they do the same for yours. You can even try offering rewards for their support. They don't have to be monetary awards either, spending time together and showing them how readily available you can be to them when they need you will help you be on the way to getting and keeping your family squarely on your side.