Shop With a Mompreneur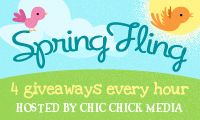 Get in on the Spring Flings
I'm a big promoter of Mompreneur and WAHM ecommerce businesses. Before I started selling on Bonanzle, I formerly owned an online boutique where I drop-shipped many unique one-of-a-kind specialty items.
To celebrate their new communities on the BlogFrog, the SITSgirls, Today's Creative Blog, Skip to My Lou, and Tip Junkie are hosting a Spring Fling!
They'll be hosting a giveaway every hour on all 4 of their blogs on April 13th from 5:00 am to 8:00 pm (CST). Which will total over $6,000 worth of products given away in one day!
It's going to be an entire day of FREE products from Tip Junkie Mom-preneurs. Everything will be over $50.00. This is a great time to stock up on all your wish list items for yourself, Mother's Day, birthdays, and even Christmas.
I luv Tip Junkie! My post on Increasing your Twitter Technorati Authority was featured on their site and I have the banner on my sidebar!
We all know that SITSgirls rawks and I was recently one of their Featured Bloggers and had my SITS Day in January! (Of course, if you missed it then – be sure to leave me comment luv now!)
Mark your calendar and don't miss out!
Make sure to check out the Spring Fling going on at Wickedly Chic!
This is an awesome event that seeks to promote a large group of independently-owned ("Indie") fashionable businesses. The Fling will run from March 25, 2010 to April 24, 2010.
Wickedly Chic has 30 businesses participating this year. They each are  promoting their shops and new Spring merchandise that you won't find in any local mall.
If you have an upcoming special event to attend this spring – bridal shower, baby shower, graduation, anniversary or housewarming – you'll be certain any gift you choose will be special.
You'll find handmade shirts, jackets & scarves from Flutter on Etsy;  fun jewelry from Manic Trout; and well-made toys for the choosy mom from Nico & Zoe Toys.
There will be discounts on merchandise provided by some of the individual businesses as well as several giveaways.
For More Information check out the Spring Fling Gift Guide
Are you a Mompreneuer? Be sure to link your business on my WAHM Business Linky!