My feet have a birthday coming up in January. They'll be over 50 years old!
As a child, it was a special occasion when my parents took me to get a new pair of shoes. There was only one shoe store in downtown Hartford, CT that sold Stride Rite shoes. As my mom didn't work outside the home and our family only had one source of income, Stride Rite shoes were the only shoes that my parents would let my brother and I wear.
My younger brother and I would dress up in our Sunday finest, and get fitted by a shoe salesperson that would measure our feet, go into the back room and  show us some selections that he felt were appropriate and within my parent's price range.   In those days, you couldn't find shoes on a rack. I had only a few pair of shoes ~ a dress pair, a play pair and one pair of shoes for school. When I outgrew those, they would get handed down to my cousins. Times, however, have changed.
My husband also grew up wearing Stride Rites, and my mother-in-law was adamant that her grandchildren wear Stride Rites also. In fact, my mother-in-law would always be the one to treat my daughters to new shoes as they grew up.
For over eighty-five years, Stride Rite has been designing and engineering footwear specifically to meet the needs of growing children. We all know how tempting it is to re-purpose your first baby's shoes for your second child. However, it is so important to have your baby professionally fitted and buy quality shoes for their first steps. Stride Rite has created a new line of Natural Motion System Early Walker shoes for babies learning to take their first steps. The shoes have easy on/stay on, plus great comfort, traction, and protection.
Now that I have grandchildren, I'm much like my mother-in-law. When I purchase shoes for 'Lil Moomette and Slugger, they're always Stride Rites.
Slugger will be blazing new trails in this Cavy Sandstone/Brown Early Walker. Contrasting light and dark browns with orange, cream, and blue stitching detail make this the perfect pair of shoes for fall. With Natural Motion System®(NMS) technology, the blue natural leather linings and insole will cushion and mold to fit his foot as he learns to walk! Details include: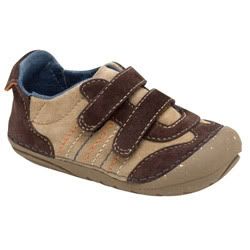 * Soft and velvety nubuck upper
* Natural Motion System® (NMS) technology
* Oversized opening and slide-in back tab for easy on and easy off
* Deep flex grooves for maximum flexibility
* Natural leather linings for comfort and breathability
* Smooth outsole to upper transition
* Eco-friendly materials include recycled rubber outsole, natural stitching, and water-based inks for details and logo.
To see the whole selection, ensure that your little one, or grandchild gets started on the 'right foot', visit http://www.striderite.com
Brought to you by Twittermoms