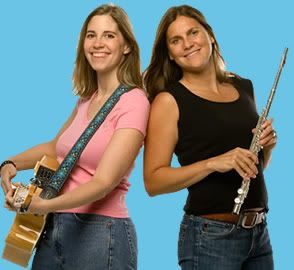 As a mom of  two grown daughters, I must say that each one was as different as night and day when they were growing up. They're 4 years apart, and when they were little, the age gap made a big difference. They're much closer now that they're grown.
My youngest was very much in to music. When it was her bedtime, Pumpkin had a tape-recorder and would listen to her favorite musical tapes until she fell asleep. Oftentimes they were storybook tapes. As she grew older, her love of music manifested itself through dancing. Pumpkin developed an amazing sense of rhythm, and took dancing lessons from the time she was a toddler, until she was a senior in high school. Pumpkin was on the Dance Team in high school and as a freshman in college.
I can recall a group that was extremely popular with children born in the 1980s. When they toured and came to a town nearby, we attended the "concert" in the local high school. It was a jam-packed, fun-filled event that Pumpkin now 21, still remembers.
Recently I was asked to review a new CD/DVD that's going to be having the kiddie set all in a twitter!
Swingset Mamas (a/k/a  Lizzie and Marlowe)

"kindled their friendship singing into the night over a campfire on the beach in Montauk, NY. Marlowe, a classically trained pianist, and Lizzie, a music therapist and rock musician, connected over a belief in the power of music."
"…the Mamas' songs tap into the most fundamental joys and struggles of parents and their children."
Now 'Lil Moomette, my granddauaghter, age 2 ~ does not take after her mom in a musical sense, but rather (thankfully,) takes after Auntie. Auntie, I'm pleased to say, takes after…moi. 'Lil Moomette and I were dancing to the Swingset Mamas'  "All Around the House" (actually, mom was too!) It was too cute to see 'Lil Moomette shake her tiny little booty!
This delightful CD/DVD would be great for Daycare, Preschool, Homeschooling, or rainy days!
There's still plenty of time to order the entertaining and educational Swingset Mamas CD/DVDs in time for the Holidays or upcoming Birthday Parties. All orders will ship within 2 days of ordering via 1st class mail.
Gift cards and/or autographed CD's with a brief message and your child's name are available for no additional cost!
Visit Swingset Mamas for more information.