More than 400,000 children annually undergo a tonsillectomy to get their tonsils removed, as reported by the Centers for Disease Control and Prevention, that makes a tonsillectomy the 2nd most common childhood surgery.  The "O, MY" in Tonsillectomy & Adenoidectomy: How to Prepare Your Child for Surgery,  is a parent's manual, written by author Laurie Zelinger, Ph.D, M.S., R.P.T.-S, who became interested in this topic while preparing for her own son's surgery.
This book helps parents understand and organize the necessary medical and emotional components that accompany their childs surgery.  In an easy to follow time line for events prior to and following a tonsillectomy or adrenoidectomy, the author provides reassuring and accurate guidance that eases the process for the patient and family.
Tonsillectomy & Adenoidectomy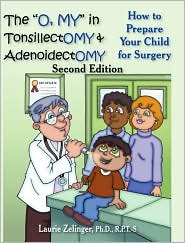 Typically, parents tend to schedule this surgery during their child's school vacation or breaks over summer and the holiday season to recuperate from what used to be a drawn-out and sore recovery.  Sophisticated advances to tonsil removal now let kids  enjoy more of their free time and school vacation at the beach or lake with family and friends, instead of in pain at home.
Children and Surgery Topics: 
Uh-Oh, Surgery! Making Your Decision
Introducing the Topic to Your Child
Tackling the Subject
Getting Closer, Getting Ready
The Day of Surgery – It's Here
The Ultimate Preparation List
This is an informative reference source for parents, grandparents or daycare providers to sooth a child's fears before undergoing surgery for a Tonsillectomy or Adenoidectomy.
ISBN:  978-1-615999-053-5
Available at Barnes and Noble
© Moomettes Magnificents
Benefited Reviewer. Opinions are my own.