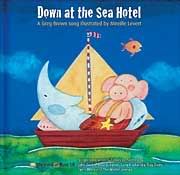 When my youngest daughter who's now 21 was a toddler, the only way we could get her to go to sleep at night was by listening to music. Several of her favorite storybooks came with accompanying music tapes.
Back then, she had a tape player ~ you may or may not remember them ~ the kind where if the thin tape got twisted or stuck that was the end of everything? Can you imagine what it was like trying to get my toddler to sleep at that point?
We actually still have the special tape player and many of the same books, which will probably be passed down to my daughter's children if she ever has any.
I'm delighted to have the opportunity to review some absolutely stunning illustrated storybooks from the publishing group, The Secret Mountain.

I received three different storybooks from The Secret Mountain collection:
Dream Songs Night Songs: From Belgium to Brazil
A Duck in New York City
Down at the Sea Hotel
Each storybook came with an accompanying CD filled with music that compliments the story and is attached to a pocket on the back cover.

My granddaughter, 'Lil Moomette just recently turned two. Our favorite out of the collection is the Down at the Sea Hotel. The CD includes 14 performances and additional printable files, along with lyrics and illustrations.
I recognized several of the songs immediately ~ "Goodnight, My Angel" , written by songwriter Billy Joel; as well as other songwriters including Neil Young.
These would make perfect Holiday, Birthday or anytime gifts for your child, grandchild, niece, nephew, family friend or home schooled children.
Much like her auntie's favorite books and tapes, these delightful story time books and CDs from
The Secret Mountain are destined to become cherished favorites of 'Lil Moomette.
Please share with me your child's favorite bedtime ritual ~ I'd love to know if any other children listened to music like my youngest daughter did!
Visit The Secret Mountain for more information.