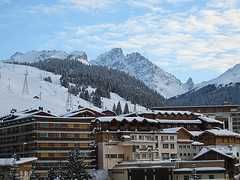 You can tell it's summer here in New England! There's the sound of air conditioners running all over town. I haven't seen my next door neighbors in ages ~ everyone is all cooped up inside, instead of sitting out on their decks!
What would be nice about now is to be sitting on a deck at a Courchevel chalet. I've been to Europe, but never to Courchevel, France.
I hope my blogging friends in the UK use Supertravel to book their holidays. Supertravel is a UK based company with more than 40 years of travel experience. With departments dedicated to organizing Ski and Golf holidays, you can be sure that your holiday will be arranged by a specialist. They can plan an itinerary agenda for you and have you out and about in no time visiting Meribel, France and St Anton, Austria for Luxury Skiing holidays.
If you travel with your family or a special group and woujld like to vacation in Luxury ski chalets, Supertravel Ski has luxury chalets in Courchevel & Meribel in France, and St Anton in Austria. With fantastic food and wine provided by your chalet host, you may never want to go home!
Ski hotels can also be arranged in the best ski resorts around the world.
Don't forget to bring a camera and post pictures if you blog!