Today is Tuesday Toot Day!
What does that mean? Well, it means every Tuesday, you get to post an accomplishment that you have done. As moms sometimes, we are quick in praising our kids and others about their accomplishments but we are "shy" when it comes to our achievements so … here is our chance.
This week I was awarded the honor of receiving the WAHMMY Award from from WahmZone.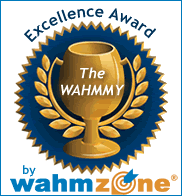 This means your site is considered to be a valuable Women's Resource or Women's Business site.
The Wahmmy Award is given to those sites that we feel provide excellent service and resources to work at home moms.
The WahmZone is a growing Work at Home Mom's web site with extensive online promotion and resources , and their traffic is increasing everyday!
Once again, I am humbled and honored to have Moomettesgram's Musings bestowed with yet another WAHM Award.
Please visit the WahmZone and see how it can help your online business or blog advance in 2009.
Be sure to stop by MommyCommunity for more Tuesday Toots and Memes!