Being a Grandmother is just way too much fun! Not only did I not have to give birth to the little darlings who bring me so much joy, I also get to chuckle when listening to my oldest Darling Daughter tell me how much work it is! And she's 10 years younger than I was when I had my two girls!
I recently had the opportunity to review Tomato Sawyer and Huckleberry Larry's Big River Rescue ~ A Lesson in Helping Others in DVD format, from Big Idea.
Big Idea, Inc., an Entertainment Rights group company, is the leading faith-based studio and producer of children's and family programming, characters and brands.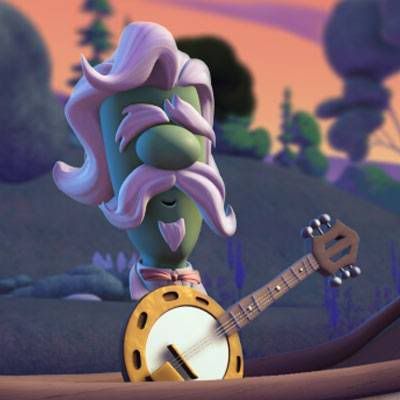 As the storyline goes ~
Tomato Sawyer and Huckleberry Larry's life on the lazy river takes a turn for adventure when they help a stranger in need. With unexpected twists around every bend, they discover that while helping others may not be the easiest thing to do, it's always the right thing to do!
The Biscuit of Zazzamarandabo is the new Silly Song Feature, along with The Mighty Mississippi and She's My Friend.  Dolby Digital enhanced.
'Lil Moomette is 21 months old and has been watching educational videos since she was an infant. Unlike the educational programing that my own daughters had to endure during the 1980s and 90s, when Cable TV was in it's infancy or VHS tapes were just introduced marketed towards children, the Veggie Tales Tomato Sawyer and Huckleberry Larry's Big River Rescue ~ A Lesson in Helping Others is an action-packed video and held 'Lil Momette's attention span.
Viewed on a 47-inch Hi Definition TV the characters are colorful and animated. While Moomette, at 21 months, may not yet quite appreciate the story line, she was able to identify and repeat the names of the Veggies through their colors, and animations.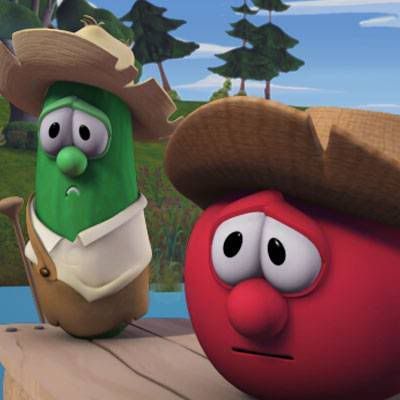 The lively story and music prompted Moomette to gleefully dance around the Living Room while watching, trying to emulate the characters. It was a hoot to watch her! This video will continue to grab her attention for quite some time.  As she gets older and more cognizant of situations,  Moomette will understand the storyline in greater detail,  much as reading a book over and over.
Approx. View Time ~ 50 Minutes