scooter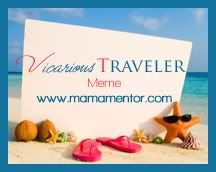 My heart goes out to all the people in Italy after the recent devastation caused by the massive earthquake.
Although I've never been to Italy, several in my family have visited multiple times. I have a niece who had traveled around the world, literally, by the time she was 21. Between traveling with her mom, groups while in high school, and junior year abroad in Adelaide, Australia while at the University of Vermont, that gal has seen more than I'll see in my lifetime. She's shown her passport more often than I've shown my driver's license!
Given the state of the economy, all of my traveling this year will be done vicariously. My first stop on my Bucket List as the Vicarious Traveler is Orvieto, Italy. Orvieto was recommended as a stop by my friend, The Mother.
I don't know how I came across The Mother's Handbook, but once I visited I became an ardent fan! There's a women after my own heart! I'm trying to convince her to become a contributor to Type-A Mom 50-Something Moms where I'm the Editor. The Mother goes by @ tmhmom on Twitter if you want to friend request her! Watch for an upcoming post as I'm going to be interviewed there & she sent me some really interesting questions that have me in a tailspin already just thinking abut the answers!
Located northwest of L'Aquila, the epicenter of the recent earthquake that took place, Orvieto has a rich history going back to the 9th Century, B.C. It's most important landmark is the Cathedral of Orvieto, which was constructed in 1264 under Pope Urbano IV.
There's abundant restaurants and Trattorias, along with museums and entertainment for the family. Does it get any better than cobblestone streets?

Where do you recommend this Baby Boomer Grandma visit next, or what's on your Bucket List of out-of-the-way places? Leave me a comment & I'll leave you some Linky Luv if I use your recommendation! It's really more fun though if you participate in the Meme too!
Don't forget to sign Mr. Linky and grab our banner!
For More Information visit: Orvieto
Photos Courtesy of The Mother's Handbook

Further Reading:

Leaving On a Jet Plane ~ The Vicarious Traveler
Gas Crunch: Bermuda + Boomers + Scooters = A Souvenir Tetanus Shot
More Photo Fun


Travel in Italy
Gr
Travel
T