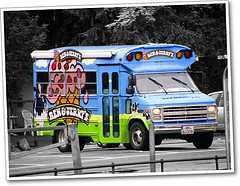 I just returned from a weekend in what I consider the Ice Cream capitol of New England – Vermont! Home to Ben & Jerry's!
While I've driven past their factory in Waterbury, I've yet to take a tour, but one of these days when I go back, it'll definitely be on my agenda! We were at a wedding in Stowe over Columbus Day weekend last year, and couldn't fit the ice cream tour in! (BTW, this is not a paid post!)
Up in Vermont, they call soft-serve "creamies." Now I love my ice cream (and it probably shows.) I'm known to hide pints of B&J in the freezer, and eat straight from the container. I don't share my B&J.
My favorite flavor? I'm not telling. I luv them all! (OK, I'm partial to anything coffee or Kaluha.)
Back home in Connecticut, we have a magnificent little ice cream shoppe in the historic district of town. It's fun to take 'Lil Moomette down there in the evenings when she's around, and watch her enjoy herself!
Here's an interesting little test to see what your "Ice Cream Personality" is.
Hat tip to Matt at MTMD who's enjoying himself on vacation but still thinking of his blogging buddies!
Your Ice Cream Personality:

You like to think of yourself as a fairly modest person. And it's true that you don't talk yourself up… but you're also pretty happy with who you are.

You are incredibly cautious. You rather miss out on something than make a mistake. No one would ever call you wild… but they would call you responsible.

You are a somewhat open minded person, but deep down you're fairly conservative. You don't like trying new things very much. And if you do find something new you like, you stick with it.

You tend to have a one track mind. You prefer not to multitask.

You are fun loving and sweet. You tend to enjoy joking around and teasing people.